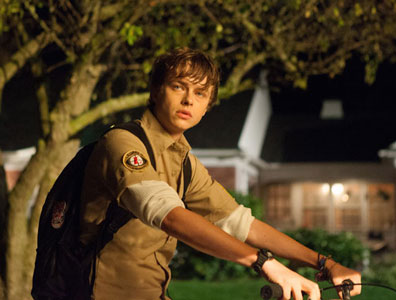 Dane DeHaan has gotten the chance to work with some pretty big names in the last year, including Steven Spielberg, Bradley Cooper, and Ryan Gosling.  But the actor doesn't necessarily quiz them about career guidance.
"It's not like I ask all these questions and look for advice," he said in an interview with Moviefone.  "I learn something from everybody I work with.  I think I would be a fool to think I didn't.  Ultimately, how I look at it is I'm acting, and acting is something I've always wanted to do.  I am really lucky that I get to do it at this crazy level that I never thought I'd be able to, and I get to do it with these people that I never thought I'd get a chance to work with.  I soak it all in.  Ultimately, I try to carve my own path."
DeHaan recently appeared in Lincoln, landing the non-speaking role of a soldier just by Spielberg calling his agent.  "That was just one night [of shooting]," he recalled.  "It was super fun.  When you get the phone call of 'Do you want to spend a night with Daniel Day Lewis and Steven Spielberg?' the answer is yes.  It gave me a lot of respect for actors who have to go in there and knock it out in one day.  It's actually a really tough job to do that."
The actor's current role in The Place Beyond the Pines was an exciting project since he already admired director Derek Cianfrance's work.  "Even reading the script you understand it's a very ambitious movie," he said.  "But I knew Derek would be directing it, so it was awesome.  The kind of performances he got out of Blue Valentine, that's kind of what I strive for as an actor.  So the opportunity to get that out of me was really exciting."
DeHaan portrays the grown up child of Gosling and Eva Mendes in the film, but he didn't really do too much exact preparation in order to play the role.
"I don't really work in a way where I study mannerisms," the 27-year-old said.  "I actually made a specific choice—and I think Derek did as well—to keep Ryan and I separate.  I didn't want to watch any of Ryan's footage.  And I did that because Ryan to me is someone I truly look up to and I have a lot of respect for.  At the time, it was almost like a mystic, I-could-learn-so-much-from-you respect."
DeHaan's next role will be in the high-profile The Amazing Spider-Man 2 as Harry Osborn.  "That was such a long, drawn-out process to get that part," the actor admitted.  "I really battled, from getting my first audition to going all the way through.  Like, three times I was convinced that I completely didn't get it and I was just moving on in my life.  So, honestly, when I finally got the phone call that said I got the part, I was obviously ecstatic.  It was a childhood dream come true.  But it was also a huge sigh of relief because I had won the war.  I had done battle after battle.  I was like, I can relax now."
The Place Beyond the Pines opens in theaters Friday, March 29, and The Amazing Spider-Man 2 will come out May 2, 2014.