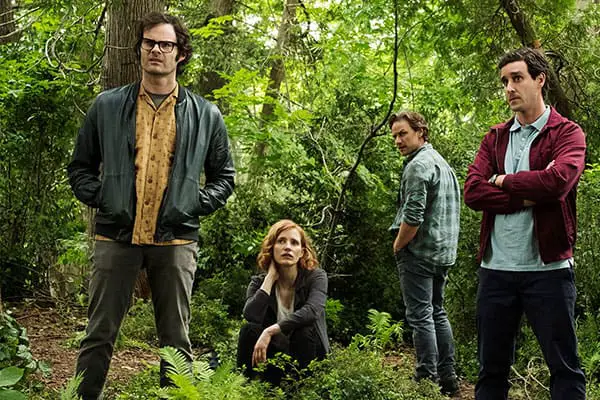 If any one of us had an insane clown doing his best to kill us – like the kids in the first IT film –  admittedly we'd have issues to deal with later in life. And when we meet up with those same kids 27 years later in IT Chapter Two, we find that, yep, they have issues. At least on the inside.
Billy (James McAvoy) is now a successful screenwriter and author but can't seem to find a great ending to any of his stories, at least that's what his condescending actress girlfriend says early on in the film. Jessica Chastain's Bev is the co-owner of a successful company (though we don't really know what kind of company it is since the film never says), who is married to an abusive husband. The overweight Ben is now a handsome entrepreneur (Jay Ryan) with some serious romantic issues, Richie (Bill Hader) is a successful comedian who looks like he's been through the ringer when we first see him and smart aleck Eddie (James Ransone) is a risk analyst who's apparently married to a carbon copy of his mother.
Even though most are successful, each one seems to have some kind of sadness, some deep-seeded issues that they can't figure out.
That's where Mike (Isaiah Mustafa) comes in. He never left the small Maine town of Derry, like the others. And apparently, if you leave town, the memories of your time there leave with it. Mike has been dealing with what happened oh-so-many years ago and with Pennywise (Bill Skarsgard) back, he's finally figured out how to get rid of him for good.
Mike contacts 'The Losers' and one by one, they show up in their old hometown and the longer they stay, the more they remember. Once they see Pennywise in action and the new destruction that he's causing to the town and local kids, they band together to get rid of him once and for all.
Switching back and forth between the original cast (Jaeden Lieberher, Jeremy Ray Taylor, Sophia Lillis, Finn Wolfhard, Wyatt Oleff, Chosen Jacobs and Jack Dylan Grazer) to the new, older counterparts, the actors are pretty spot-on, especially Hader. As in the first film, Richie gets all the best lines and Hader does here as well. In fact, it's worth your time for him alone. Skarsgard as Pennywise is even better here than in the first. Maybe he's got more to do? Either way, he can take a one-sentence, almost nonsense line and squeeze every last, menacing drop out of it.
At almost 3 hours, the film runs a bit long though. In Act 2, there's an extended sequence where each of The Losers have to confront their past to sacrifice something, which will help destroy Pennywise. Each character gets their moment and each sequence is interesting, but it takes up so much time that when the third act starts, you want them to settle the score pretty quickly.
It's a worthy sequel and director Andy Muschietti and writer Gary Dauberman did a terrific job adapting the last part of the book. The film benefits from the wonderful cast and the cameo from some guy named Stephen King.