A man we'll only know as 'Driver' looks out over the Los Angeles skyline, talks into his phone and says, "I'll give you 5 minutes."
We then get a tense, harrowing heist scene that has Driver (Ryan Gosling) racing and hiding through the streets of downtown LA. The scene is quiet; there's hardly any sound except the ambient noise of the streets and vehicles. And it's energizing.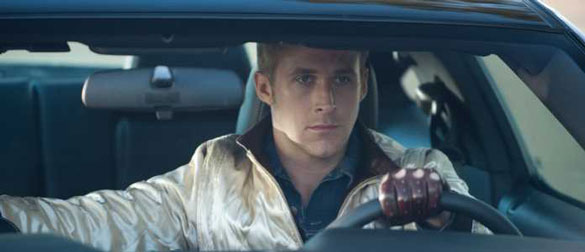 Gosling has quickly become one of my favorite actors and his performance here has catapulted him to the very top. Driver is all instinct and Gosling has almost no dialogue and when he does, it consists of mostly 1 or 2 words sentences.
Driver is a stunt man who also acts as a getaway driver for some not-so-good people. What you do is your business. As long as he get's paid, he's all good. He's the kind of guy that doesn't want any personal interaction in his work and life, that is until he meet's Irene (Carey Mulligan). She's his new neighbor with a husband who is about to be released from jail. There is instant chemistry between the two but Driver takes it nowhere. Until…
His two worlds collide.
His boss Shannon (Bryan Cranston) gets involved with Bernie Rose (Albert Brooks), a former movie producer of 80's action films. "I thought they were shit," he says of the films. Bernie and Shannon strike a deal for Driver to race cars but the deal is quickly side-tracked by circumstances I can't get into or I'll give away some juicy details.
Bernie turns out to be a violent thug and it's the coolest thing ever to see Brooks play this character. Like Driver, he's gotten himself into something he needs to find a way out of. But whoever is smarter and more resourceful will be the winner.
Director Nicolas Winding Refn, who won Best Director at Cannes for this film, takes you on a ride (sorry for the pun!) that you think will go one way but leads you on a whole other direction.
The film is funny, violent, beautiful and quiet. It's almost perfect.