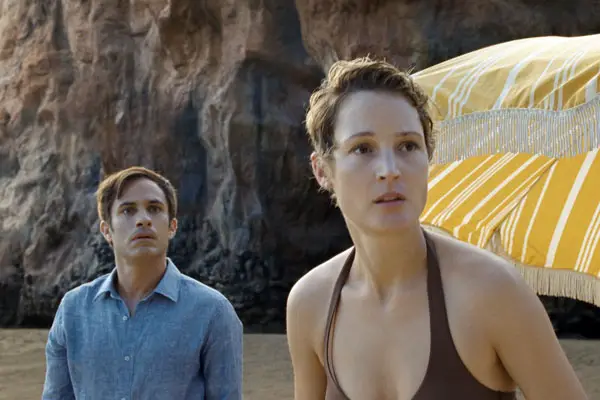 In 'Old', director M. Night Shyamalan's latest film, the twist – and there's always a twist in his films – is his best in years. It's surprising and makes perfect sense for the story. Unfortunately, the events leading up to it don't match the eventual big reveal.
The story is set in an idyllic island resort where upon your arrival, your every whim is catered to. We meet Guy (Gael García Bernal) and Prisca (Vicky Krieps), a couple who have brought their two young kids on a dream vacation before they tell them that they are getting a divorce. The family, along with a handful of others – a physician (Rufus Sewell), his wife, daughter and mother-in-law and a nurse (Ken Leung) and his epileptic wife (Nikki Amuka-Bird) – have been offered an outing to a secluded beach, escorted by Shyamalan himself, in a Hitchcock-ian cameo.
The group settle on the beach and things are great. For all of 5 minutes.
They find a rapper star (Aaron Pierre) seemingly alone, dazed and confused. They quickly find out why when they find the body of his girlfriend in the sand. Sewell's physician begins hurling accusations at the rapper, who insists he had nothing to do with her death. Something weird is going on, he tells them.
And boy, is he right.
Turns out, anyone who visits this mysterious part of the island starts to age. And age rapidly. In fact, the children are now young adults, now played by Alex Wolff, Thomasin McKenzie and Eliza Scanlen. The aging happens so quick, that the end of the day, your life is almost over. And you can't escape and anyone who tries finds that out the hard way.
What is happening to them? Why are they even there? All these answers are revealed but to mention that would help spoil the twist.
The film has it's share of scares and fun moments, but it feels like the characters are a bit underwritten. The actors all do a terrific job at fleshing them out, but quite honestly I just really didn't care about any of them. Especially Guy and Prisca. These two are supposed to be our window into this world and you might feel like, 'eh', towards them, as I did.
Once the final twist is revealed and we're told the answers to all of the why's, you gain more of an appreciation to to story, but getting there might age you.