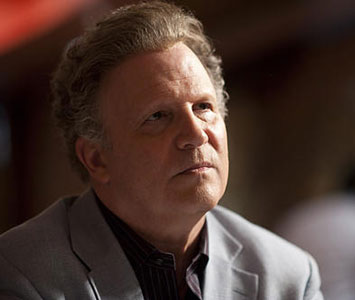 Albert Brooks might be letting his role as Bernie Rose, the main villain of Drive, affect his vocabulary, as when he discussed the role with The Los Angeles Times he described his character by saying "I've played a few nasty guys over the years, but never one with … of steel."
If nothing else, Brooks — typically known for his comedic roles and comedies he has directed himself — insists that Rose isn't the typical "movie villain," which suggests why he was cast.
He explains, "There's a very clichéd bad guy in American movies, and you know who he is, the blond-haired guy who talks in an accent and from the moment he's on screen you know everything about him.  What's great about Bernie is you don't know who he is in the first 40 seconds. He can turn out to be 11 different things. You just know that you don't want to cross him."
Believe it or not, Brooks has been away from the movies for six years and chose the role in Drive to give him a challenging reason to return.  He hopes he will have a variety of roles in his career now, saying "I feel like I'm getting to a point where I want to do a lot of different parts.  I'm growing into parts I never even knew I wanted to play."  He went on to add, "If people see me differently because of this, that's OK," as he hopes to make a major career turn like John Travolta did in Pulp Fiction.
Still, Brooks knows that while this role might not lead to a more varied career he has not regrets about his role in Drive, quipping "You can't really pass up an opportunity to stick a fork in someone's eye."
Well, we certainly wish Brooks the best of luck, but I have to admit I'd think twice about having dinner with him after that last line.