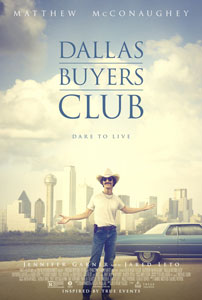 One of the things about having an incredibly interesting story to draw on for a biopic is that sometimes the filmmakers feel the need to squeeze every single detail into that film.
That's what's happened with Dallas Buyers Club, the story of Ron Woodruff (Matthew McConaughey), a good ole boy from Texas. It's 1985 and Woodruff, an electrician and rodeo cowboy, is living the life; drinking and drugs with his buddies and one-night stands with random women. And when he's not having all of that fun, he's nailing hookers.
All of that comes crashing to a halt when he's diagnosed with AIDS and is told that he's got 30 days to live.
Screw that. Woodruff takes his life into his own hands and looks for some kind, any kind, of treatment. He goes into Mexico to find drugs that aren't approved by the FDA. With the help of a ex-pat Doctor (Griffin Dunne), he finds medication to help him survive. Always trying to wheel and deal, he comes up with the idea to form a 'club' where he would sell memberships to people so they could get access to these meds. He smuggles the illegal medication over the border and begins looking for ways to sell the stuff.
But, being a rabid homophobe, that doesn't come easy… especially when 99% of his clients are gay men.
Enter Rayon (Jared Leto), a transsexual who forms an unlikely partnership with Woodruff. She finds the men to join the club while he takes care of the rest.
Eventually the Government and Feds gets involved as do a pair of Doctors (Jennifer Garner and Denis O'Hare) as Woodruff and Rayon struggle to help themselves and all of the men who are desperate for this medication.
McConaughey and Leto are nothing short of fantastic. McConaughey is becoming (or already is) one of the best actors working today, hands down. Woodruff is a flat-out a-hole who only cares about himself. The only reason he created the Dallas Buyers Club is to save himself and make money. He's a horrible homophobe. But, you find yourself oddly rooting for him, thanks to McConaughey. You've by now seen the incredible transformation he did for the role but to witness it on-screen is something that is both shocking and admirable, acting wise. Everything about his work here is just perfect.
That statement also applies to Leto, who, as Rayon,is the soul of the movie. His whole performance is beautiful, sad  and truly inspiring. Based on his work here, I really wish he'd go back to acting full time… or at least make a movie more than once every six years.
The unfortunate part of this whole thing is that McConaughey and Leto are much, much better than the material. If the script (written by Craig Borten) were as good as they are, this would be something else to see. As it is, the fim, directed by Jean-Marc Vallée, is only partly there. Once we get into the portion of the Government fighting Woodruff and the scenes in the courthouse, it loses the part of the story that I connected to: its humanity. This is the story of Woodruff and Rayon. This is what audiences will connect to, not some routine procedural.
And Jennifer Garner, while good, has a pointless role here. You could cut her part out and honestly nothing would change except for the run time. You wouldn't miss her one bit.
All of this shouldn't stop you from seeing this though. McConaughey and Leto are wonderful and watching their performances should forget the films shortcomings.