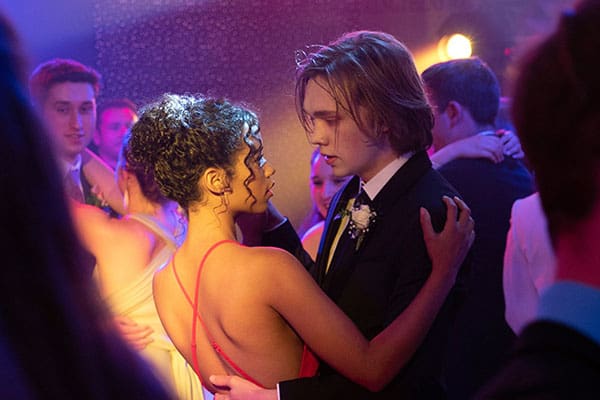 There's an excellent point that Adam (Charlie Plummer) makes in Words on Bathroom Walls, a wonderful film from director Thor Freudenthal. He asks why people treat kids with cancer and kids with mental disorders differently? With cancer, they ask them to make a "wish." With mental disorders, specifically schizophrenia which he's been recently diagnosed with, those same people try and wish away the disease. It's almost a gut punch when he says it because he's absolutely right. What also makes his statement a key part of the film is that it makes you look at Adam and his disease from another angle, his.
The film, adapted from Julia Walton's 2017 YA novel of the same name, is about Adam (Plummer), a high school senior who has dreams of going to culinary school. He's the kind of kid you see in most YA movies and books; funny, smart and more introspective than most adults. Early on in the film, he starts to experience hallucinations, mostly in the form of 3 imaginary people: hippie chick Rebecca (AnnaSophia Robb), Joaquin (Devon Bostick), a horny guy who's straight out of an 80's teen movie, and Bodyguard (Lobo Sebastian), who's never not ready for a fight. But soon, it takes a darker turn when he has visions of floating bunsen burners in his chemistry class that turns into getting his best friend hurt and finally, getting expelled.
With the help of his mom (Molly Parker) and her less-than-perfect new boyfriend (Walton Goggins), he's transferred to a Catholic school where he meets Maya (Taylor Russell), who soon begins tutoring him. As he struggles to keep his condition a secret, he's falling in love with Maya who soon becomes more of a rock then he could ever imagine.
Written by Nick Naveda, the film never becomes melodrama. I mean, given the subject matter, it could have easily been a Lifetime film. But the script, direction and the excellent cast meld perfectly.
Andy Garcia shines as the school priest (please, work more!), as does Goggins and Parker. But, it's Plummer and Russell who deserve all the praise. Plummer is tall and gangly, and as Adam, he's soft-spoken and his eyes tell you everything. Russell plays it more confident, or at least that's how she needs to play Maya on the surface. Both are excellent and make this really worth watching.