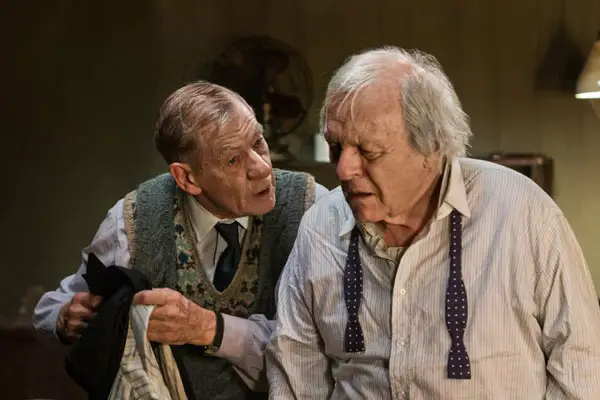 "The show must go on" is a term actors are fond of saying, both in jest and when something bad actually happens. In the wonderful Starz film, The Dresser, about an ageing actor, Sir (Anthony Hopkins), and his loyal dresser, Norman (Ian McKellen), they take that old saying to a new level.
Set mostly in a dressing room during World War II, the film centers on a traveling Shakespearean troupe of actors who are about to perform King Lear while the sounds of air raid sirens crackle above. At points, we even see the theatre rattle. Yet, the show still must go on.
As the film starts, Sir is missing and Norman does his best to assure the cast that he's just delayed. At the last possible minute, he shows up disheveled and out-of-sorts. As he constantly asks Norman what his opening line is for the show – a show that he's done 227 times – it's clear something is off. Is he sick? Just forgetful? Or something much worse, like dementia? Whatever is it, Norman is right there by him as his friend and protector and watching McKellen play these scenes is perfection.
The Dresser really is a story of friendship and uncompromising loyalty between the two long-time friends. Based on Ronald Harwood's play and adapted and directed by Richard Eyre, the film is hands down terrific in every single way. It's sometimes difficult to watch a play adapted to film. It can feel claustrophobic and insular (like the filmed version of Yasmina Reza's Carnage), but not here. Eyre captures the sometimes chaotic and balletic madness that goes on behind-the-scenes of a play. And every scene in the film, which also stars Emily Watson and Sarah Lancashire, is perfectly nuanced and upon repeated viewing, each actor reveals more and more. It's brilliant character work all around.
Both Hopkins and McKellen, who have both played King Lear in the past, are putting on a master class and it's not to be missed.