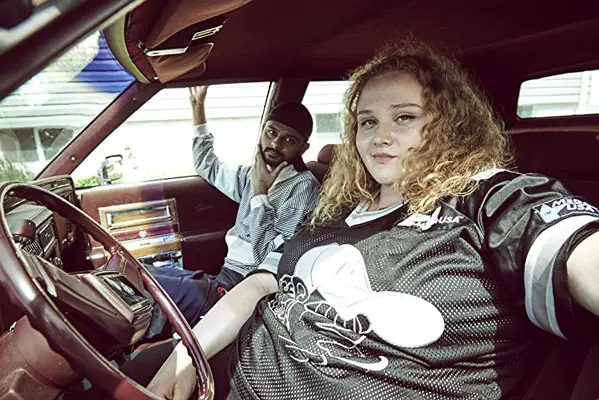 Patti Cake$ was a huge hit at this year's Sundance Film Festival, so much so that FOX Searchlight spent over $10 million to acquire it. It must have been the high altitude, because they got snowed.
Despite having some fun performances, the film is full of every cliché you can think of and feels like it's just a series of putting characters into situations the filmmaker, Geremy Jasper, needed in order to get to the end of his story.
Patricia Dombrowski (Danielle Macdonald) is an aspiring hip hop artist who goes by the name of Killa P or Patti Cake$. She lives in "dirty Jersey" with her mom (Bridget Everett) and ailing grandmother (the always terrific Cathy Moriarty), where they are barely living paycheck to paycheck. Her dreams of becoming a famous rapper always seem to be one-step ahead of her but with the help of her bestie, Jheri (Siddharth Dhananjay), and new friend and bandmate, Basterd (Mamoudoud Athie), they are slowly crawling to that dream.
Aussie actress Macdonald is great as Patti Cake$. Even though New York City is a skyline away, it feels like a million miles and you can see that in her eyes and the way she looks longingly at the city. And Dhananjay always gives the film a shot of energy when he shows up. But we never find out why he's going to so much trouble to help her. Is this his dream too? Even though he's in the band, he never once mentions it. And she screws up every chance she's given, you think he'd stop helping her out of sheer frustration.
There's a scene where Patti wheels her grandmother deep into the woods of a cemetery, where Basterd lives. She goes into the house and leaves her sitting out in the open while she listens to and convinces him to be part of the band. Ole grandma is out there the whole time where who knows what could happen. It turns into a funny moment and eventual plot point, but surely they could have come up with a reason to leave her there alone so long. She obviously loves her and it just didn't fit.
And speaking of Basterd, his place is deep in the woods where he "lives off the grid." How is he getting electricity?
The final rap battle – come on, you knew there had to be one – features a really catchy number but is ruined by yet another cliché. Don't worry, the ending wasn't given away because you'll see it coming from an 8 Mileaway.