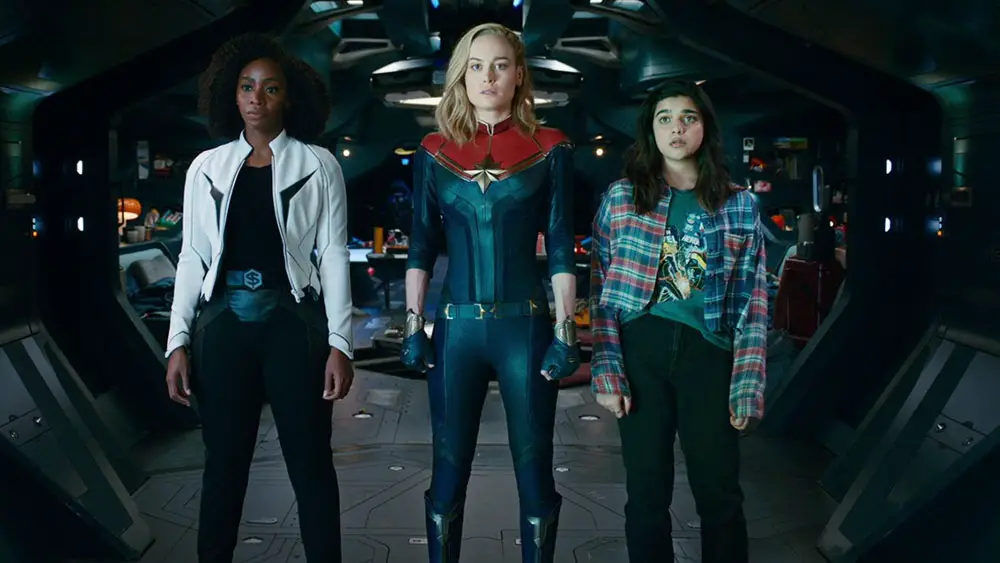 Come on guys, the MCU isn't dead. Far from it. And the studio's latest offering, The Marvels, is a perfect example. It's wacky, doesn't take itself too seriously and comes in at a brisk 100 minutes. And it's loads of fun.
Directed by Nia DaCosta and written by DaCosta, Megan McDonnell, Elissa Karasik and Zeb Wells, The Marvels has our three heroes, Captain Marvel (Brie Larson), Monica Rambeau (Teyonah Parris) – sorry Captain Monica Rambeau as she tells Larson's Carol Danvers in the film – and Kamala Khan aka Ms. Marvel (Iman Vellani), unwittingly banning together to battle Dar-Benn (Zawe Ashton), a Kree warrior who has had beef with Captain Marvel for the past 30 years. In her quest to take her down, Dar-Benn finds a Quantum Band that gives her enormous power. But she still needs the second of the pair to harness the absolute powers of the bands. Turns out, our young hero Kamala happens to have it, a gift from her grandmother. The trio, along with Nick Fury (Samuel L. Jackson) and Chewie the cat… uh, Flerken, team up to take her down.
The film fits into the mold of a Guardians of the Galaxy movie: goofiness with a lot of heart. And a lot of that is because of the addition of Vellani's Kamala Khan. We're first introduced to her in the opening of the movie, which is a good thing because I still haven't watched Ms. Marvel on  Disney+. (Who has time? I have two young kids.) She's your typical young American teenager who fangirls out at the thought of Captain Marvel, even though she's a legit hero herself. She can't believe she is in some of the situations she's in and her excitement and pure giddiness just infects every scene that she's in. There is one particular moment where the three heroes have landed on a planet where the people can only communicate through song. Danvers and Rambeau are walking stoically through the crowd while Kamala is dancing to the tunes, clearly in her own world. It's a really small moment but it just encapsulates her spunkiness in the film itself.
Larson has been very funny throughout the years in films like Scott Pilgrim and 21 Jump Street and she shows it here, especially in the scenes with Jackson. The two bicker back and forth like father-daughter. And the moments with Kamala are really touching and sweet. Both Danvers and Rambeau are overly protective of her even though she's a powerhouse herself.
Last time we saw Parris' Rambeau was in the last episode of Wanda/Vision, so she is still getting used to her powers and being a hero. Watching her discover that throughout the movie was a nice arc to watch.
There's one segment in the film where a herd of cats… uh, Flerkins, are running around on Fury's spaceship to the tune of 'Memories' from Andrew Lloyd Webber's Cats. I won't spoil it for you but It's absolutely bonkers and one of the best things in the film. I actually laughed out loud, which is pretty rare.
Is it one of the best Marvel movies? No, of course not. But it'll definitely remind you why began loving them in the first place.