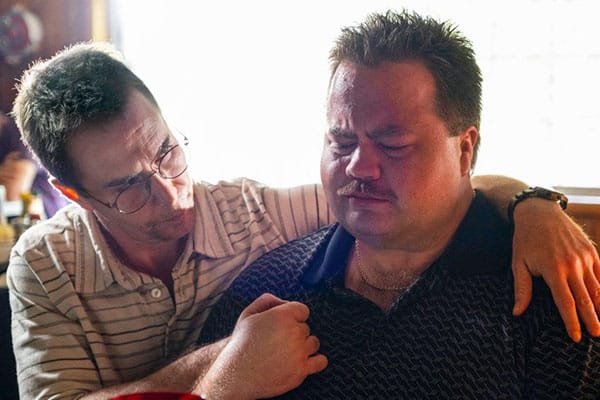 It's easy to see why Richard Jewell, the security guard who saved thousands of lives from a terrorist bomb at the 1996 Atlanta Olympics, was falsely accused of being the actual bomber. He wasn't the sharpest guy around, he took himself way too seriously when he was in security guard mode and with the way he looked, he could easily be made fun of. But the fact that he was made a scapegoat by the FBI and the media is a travesty.
Clint Eastwood, still on a role as a director, brings Jewell's story to the big screen, and he gives him the heroic the recognition he deserves.
The film follows Jewel (Paul Walter Hauser) as he works his way up from delivering mail in an office to becoming a security guard for the upcoming Olympics. After the bombing, the FBI, led by a guy named Shaw (Jon Hamm), do everything they can to find the bomber. With no hard leads or evidence, they decide at Jewell was there guy. With the help of the local newspaper and journalist Kathy Scruggs (Olivia Wilde), he becomes a household name and not in the good way. He lawyers up contacting an old boss, Watson Bryant (Sam Rockwell), who tirelessly defends him.
Hauser is absolutely brilliant as Jewell. It's an understated performance and he just is. He's just Jewell. If he doesn't get an Oscar nomination it'll be a crime. Rockwell, as usual, is fantastic. His character becomes a pseudo-father to Jewell, giving him the tough love that he needs and eventually, that fatherly hug the audience has wanted to see. There's a moment at the end when they finally get word that the FBI has dropped their case against him and it's incredibly touching.
Hamm and Wilde seem a bit over the top, but I don't think you can fault them for that. It seems to be it seemed to be more because of the script and how it approached their characters. Kathy Bates is Jewell's mom and Nina Arianda as Preston's loyal, no-nonsense secretary are just icing on the film's cake.
Eastwood's direction is no fluff and the film moves pretty quickly. It's got a sense of urgency but he brings it down in the final minutes to a warm satisfying ending.