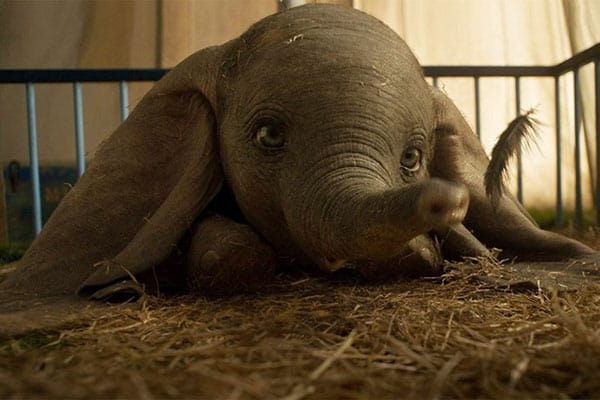 If you don't have a soft spot for Disney's 1941 animated classic, Dumbo, then there may be no hope for you. It was touching and showed kids (and parents!) the value of acceptance. And while Tim Burton's new updated version doesn't quite capture that magic, it does at times make you feel like a kid again.
Max Medici (Danny DeVito) is the owner of a struggling traveling circus who buys an elephant, Jumbo, to help drum up ticket sales. Turns out, Jumbo is pregnant and quickly gives birth to a floppy-eared cutie, Dumbo. When  Holt Farrier (Colin Farrell), a circus star war who's just returned from the war, and his kids (Nico Harper and Finley Hobbins), discover that Dumbo can fly, Medici, who has done everything to conceal the elephants giant ears, turns him into a huge attraction.
With sold out shows and national attention, V.A. Vandevere (Michael Keaton), lures Medici to sell his circus and bring everything, including Dumbo, to his huge Tomorrowland-like amusement park. Vandevere, it turns out, is a terrible person who, wouldn't you know it, only wants to exploit Dumbo.
The film is at its best when it's all about Dumbo. As soon as we see him on screen, we're immediately smitten. He's got these doughy, inquisitive eyes and at times you can see him smile, and you think, "Why are all these humans so mean to him?" He's pure innocence and love and that's why he's endured all these years. Why not focus solely on him? Only screenwriter Ehren Kruger and Burton can answer that. The story moves back and forth between  the human characters which, as good as he actors are, we don't really care about. We want Dumbo!
It was fun to see both Keaton and DeVito pack in the world of Burton, they live in his film world's so flawlessly.  Eva Green as Colette, Vandevere's main squeeze, is fine as is Farrell. But, it just wasn't enough. Because again… you want to see the flying elephant!
When Dumbo is good, it's very good, sweet, and charming. In fact, the part of the film that will give you all the feels is when we first see Dumbo fly. It's wonderful. But when it's not all about, you know, the main character… oof.