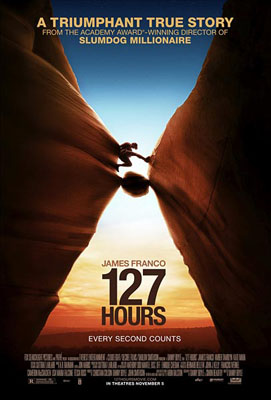 127 Hours
Director: Danny Boyle
Cast: James Franco, Amber Tamblyn, Kate Mara, Clemence Poesy, Kate Burton, Lizzy Caplan
Writers: Danny Boyle, Simon Beaufoy
I love the outdoors. Skiing, hiking and being near the water are some of my favorite things to do but I don't love it enough to get up as at 4am like Aron Ralston (James Franco) does at the beginning of 127 Hours.
He hits the alarm, quickly gets out of bed and hops in his truck because he loves being outdoors. Even when he's hauling but on his bike and wipes out, he does so with a smile.
He meets two hikers (Amber Tamblyn and Kate Mara) and helps show them a fantastic couple of hours on the mountain – places that the average hiker would never know existed; letting you know that this guy knows his way around nature.
He leaves them and treks off by himself and you know it's only a matter of time before the accident happens.
And it does.
And this is where James Franco takes over the film. He's excellent in the role. He's on-screen by himself (save for a few hallucinations) and never once do you wish the film moved faster. He is perfect.
During the time he's trapped in the gorge, he basically act's as the films narrator by filming his thoughts on the video camera he brought with him (something that Ralston did in real life). He soon begins to realize all the things he's taken for granted in his life (his family, ex-girlfriends) and addresses them into the camera.
He does everything he can to survive, including drinking his urine because of his lack of water. This is the point I'm sure I would die.
He finally decides to do the inevitable – cut off his arm. That sequence is one of the most horrific things I've ever seen on-screen (I've even heard about people passing out in screenings) because I knew it actually happened.
Directed by Danny Boyle, the film looks beautiful. You can tell why Ralston loves this place so much. Everything is gorgeous. At one point, as Ralston is stuck in the gorge and ray of sunlight pops in and Franco savors the light. Boyle makes it like it's the most beautiful thing in the world. And it is.
Yup, this movie pretty much rocks.