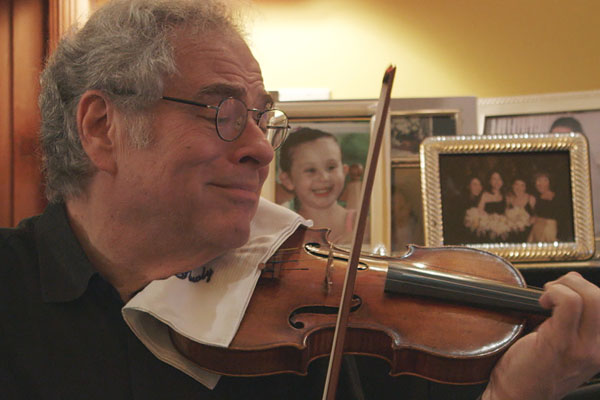 Itzhak Perlman is one of the greatest living violinists in the world and, one can make the argument, that he's one of the best that's ever lived. And based on Allison Chernick's documentary about him, he's also one of the nicest and generous people around.
The film – which follows Perlman from rehearsal studio, home, his tours, teaching at his beloved Juilliard School, playing with Billy Joel and on overseas to Israel – shows us a man who's full of life and passion. Not only for his music, but for his family and wife of 50 years, Toby.
It also shows us a man who, even though he's at the top of his game, is still learning and rehearsing. It's energizing to watch and can teach all of us a few things about humility and finding that joy in passion in our chosen craft. There are quite a few scenes of where he's playing and at no point does it get gratuitous or boring. Each note that comes from his violin as as beautiful as the next.
One thing about Chernick's film though is that it doesn't really dive deep enough into his life. What most people know about Perlman could probably fit into a thimble and walking away from this documentary you don't learn as much as you would hope or want. Perlman is a polio survivor and while there are some recollections of that, you don't really see how this affected him growing up. You can see it in in the recent footage of him riding around on his wheelchair in New York City or walking around in his braces. There's even a scene where he describes a recent event at an airport where TSA asked if he could take the braces off. But how did this disease affect him growing up? Did it make him more determined to be a success? Is that what drove him?
Also, the film goes from him being a young man to where he is today. they don't explore how he became the person he is now or what happened during those middle years where he became almost synonymous with the violin.
All that being said though, the film is a nice insight into the man and Perlman is a delight to watch. And when the film is over, you'll most likely be searching for his music on Spotify.