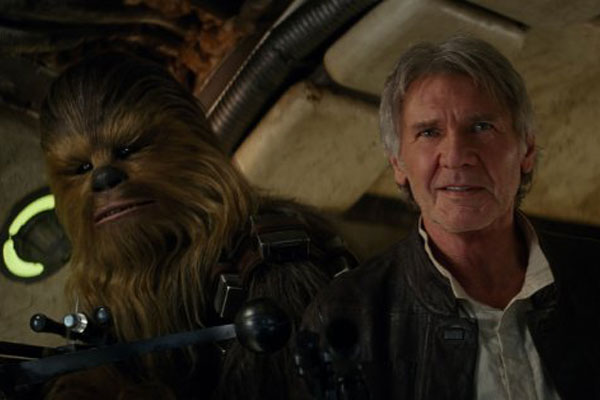 No spoilers here! Just love, sweet love.

Here's what you really want to know: J.J. Abrams didn't screw anything up. In fact, he brought Star Wars back to where it's supposed to be and if you're a fan, The Force Awakens will not disappoint.
I rarely get excited before going to see films. I think the last movie I was truly jonesing over was the first Avengers. Then Star Wars: The Force Awakens was announced with the original cast returning and I started to salivate. When I sat down to watch the screening and that familiar yellow scrawl came on the screen, I had a smile a mile wide.
We're quickly introduced to the newest members of the Universe: Rey (Daisy Ridley), Finn (John Boyega), Poe (Oscar Isaac) and BB-8, the cute rollerball of a droid. Abrams has a special knack for creating characters that are instantly likeable and these guys are no exception.
It's now thirty years after Return of the Jedi and the defeat of the Empire but life in the galaxy isn't bed of cuddly Ewoks. A new evil has risen in the name of Kylo Ren (Adam Driver) and some familiar faces reunite to help defeat Ren and his Stormtroopers.
Han Solo (Harrison Ford), Chewbacca (Peter Mayhew), Princess – now General – Leia (Carrie Fisher), C-3PO (Anthony Daniels) and R2-D2 (Kenny Baker) are back and watching them again on screen is a thing of pure pleasure, especially Han and Chewie. Watching these two is like putting on the most comfortable pair of old sneakers. The kind where you just sink into them and nothing can ruin your day. That dynamic is still there and everything they do will make you smile.
Abrams also stuck with the world we're familiar with. He didn't feel the need to reinvent anything or add any nonsense to the script. (Hi, midi-chlorians! How's things?) Everything feels familiar but in an updated way. There's also a ton of practical effects and we can see and feel the actors actually interacting and acting opposite creatures and sets. The film wasn't totally manufactured inside of a computer which makes a ton of difference as opposed to the terrible prequels.
Is the movie the second coming? No, not at all. But it's an enjoyable time and it'll make you feel like you're a kid again. And if you leave the theater not wanting to own your own BB-8, you have no soul.
'Star Wars: The Force Awakens' also stars Mark Hamill, Lupita Nyong'o, Andy Serkis, Domhnall Gleeson, Peter Mayhew and Max Von Sydow. Written by Lawrence Kasdan & J.J. Abrams and Michael Arndt. The film opens this Friday.