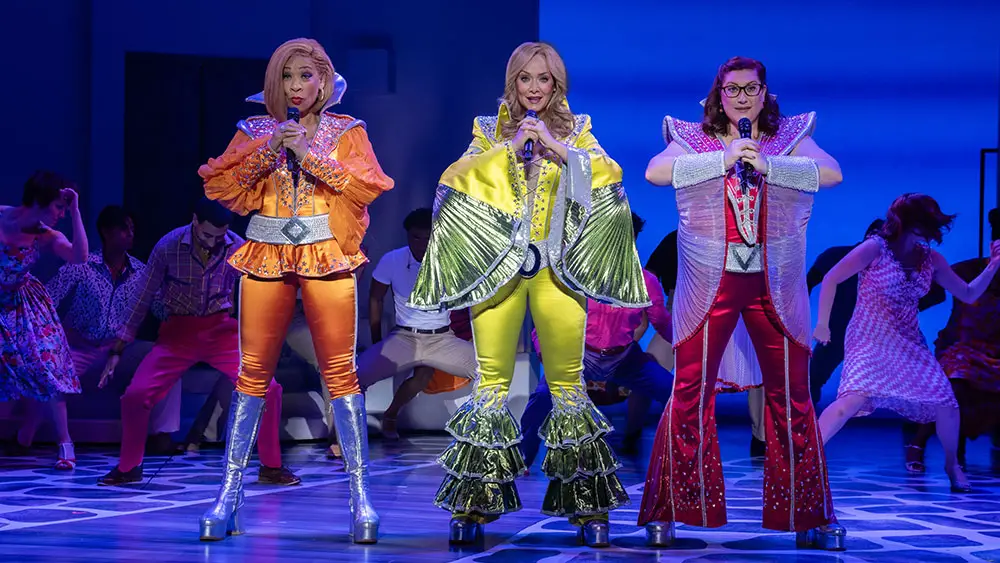 There's a reason why Mamma Mia, the hit musical featuring the songs of ABBA, has had such lasting power: Because it's absolutely hilarious and doesn't take itself too seriously. The show, which premiered first premiere on Broadway in 2001 and has since played to audiences all over the world (including this week at the San Diego Civic Theater), gives you a reprieve on what's going on in your life and let's you sit back and in enjoy yourself for two and a half hours.
If you haven't seen the show (or movie), it's about a young woman name Sophie (San Diego native Alisa Melendez) is about to be married. She's never known her father but has finally figured out that it's one of three men that her mom Donna (Christine Sherrill) had a relationship… uh, fling… with twenty-one years ago: Sam (Victor Wallace), Harry (Rob Marnell) or Bill (Jim Newman). Unbeknownst to her mom, she invites all three to the wedding where she finally hopes to see who it is. When guests start to arrive, including Donna's friends Rosie (Carly Sakolove) and Tanya (Jalynn Steele), her plot begins to kick in.
It's hard to single out any cast member because they're all exceptional. Sherrill and Melendez anchor all of the craziness in reality and their voices are so crisp and perfect. The performance I attended was Melendez's second night in the role and the absolute joy she radiated was infectious. Keep an eye out for her because she's going places. Sakolove and Steele know how to ring every bit of comic gold out of their scenes.
Written by Catherine Johnson with music & lyrics by ABBA's Benny Andersson and Björn Ulvaeusis, written by Catherine Johnson, and directed by Phyllida Lloyd, the show has has every single ABBA song that you know and love and then some. This is the third (or fourth?) time I've seen it honestly this is the best version yet.
MAMMA MIA! is currently playing at the San Diego Civic Theatre. For more info and tickets: Broadway San Diego