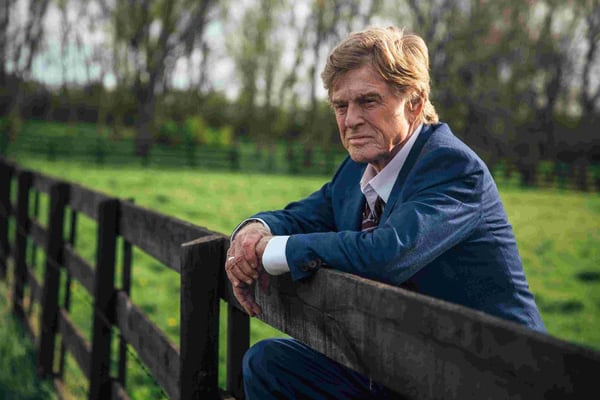 If this really is Robert Redford's last film then he is certainly going out on a high note. The Old Man and the Gun, director David Lowery's Terrific new film, is based on the true story of Forrest Tucker (Redford), a career criminal who's been robbing banks for most of his life. And now that he's 70 and escaped from San Quentin, he's not about to stop.
Tucker soon reunites with his friends, the 'Over the Hill' Gang (Danny Glover and Tom Waits), and the trio set t out to get back to their old habit of robbing banks. After the first few rounds, a detective (Casey Affleck) gets involved and becomes obsessed with finding the bandits.
One reason why the gang is so good at what they do is because they're so damn polite when they do it. Their victims actually kind of want to help them. And when the cops investigate, they all say the same thing: Tucker had a smile on his face, like he really enjoyed what he was doing.
Along the way, Tucker meets a friendly woman named, Jewel (Sissy Spacek). He never really tells her what he does for a living, though she does suspect that's it's not on the up-and-up.
As the gang robs more and more banks and Tucker and Jewel become more involved, the detective and authorities start moving in closer and closer. And for Affleck's detective, it becomes an enjoyable game of cat and mouse.
The film has a leisurely pace and it gives all the actors time to interact with each other and say Lowery's dialogue. The scenes between Redford and Spacek alone are pure joy, as are Waits scene-stealing abilities. Why isn't he in more movies? But the real star of the show is Redford. He's a master at his craft and it would be a shame if he stops now.