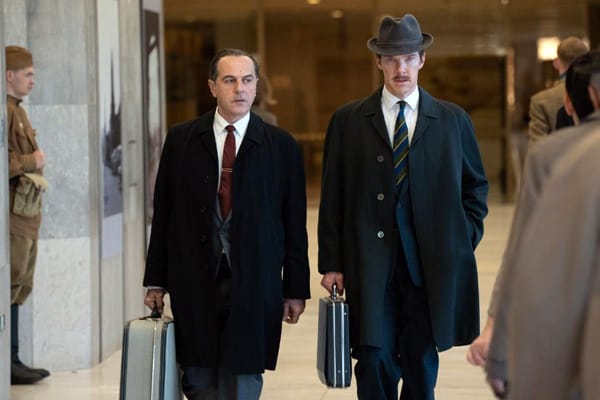 One of the main ingredients, especially nowadays, for a successful espionage thriller is to hire great actors. Obviously, a good story with some twist and turns is crucial as well, but because today's audiences have seen everything and are pretty savvy, it's the actors that sell it and bring it to life. Dominic Cooke's new film, The Courier, definitely checks all of those boxes.
The film, based on a true story, is set right before their Cuban Missile Crisis, when Russia has been secretly plotting to put nuclear weapons 90 miles from America's borders. Word has gotten out that a high-ranking Russian official, Oleg Penkovsky (Merab Ninidze), is looking to provide intelligence that will help both America and Great Britain. So, the CIA and MI6 band together and recruit a gentleman named Greville Wynne (Benedict Cumberbatch). Wynne is a traveling salesman and so unassuming, that's he's almost perfect for the job.
CIA Agent Emily Donovan (Rachel Brosnahan) and her British counterpart (Angus Franks), instruct Wynne to begin taking trips to Russia and meet with Penkovsky, bringing back the intelligence Penkovsky secretly gives him. With each trip, the two men become more and more friendly, forming a bond that went almost above friendship (because they were, you know, trying to save the world). In fact, Wynne travels back and forth so much that his wife (Jessie Buckley), begins to suspect that he may be having an affair.
Soon, the Russians begin to suspect something fishy is going on and the Agents stop Wynne from any further travel. But when he finds out Penkovsky and his family are now in danger, Wynne almost forces them to allow him to take one final trip to help his friend and family defect to America… Montana of all places.
Even though the story details the behind the scenes happenings of the Cuban Missile Crisis, it's really about the friendship between these two men and how people of different ideologies can risk their life to protect the other.
Cumberbatch is wonderful. He's one of the few movie stars who has somehow gotten away with being a true character actor, never really playing the same character twice. Ninidze is equally terrific. Every movement he makes is exacting, not wasting a moment on screen.
There's a scene towards the beginning of the film (and the beginning of the friendship) where Penkovsky brings Wynne to the ballet for the first time. The camera stays on both of them as it begins and each of them display both completely different – and multiple – emotions in the span of that one shot. Ninidze goes from horror, to sadness to hopefulness while Cumberbatch goes from excitement to awe and finally peace. It's a really beautiful moment.