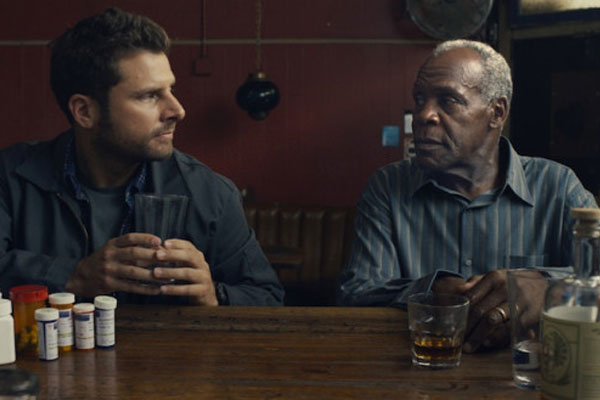 The perfectly cast Pushing Dead is a warm, gentle and meandering story about an HIV-positive writer named Dan (James Roday) and the friends that surround him.
At the start of the film, Dan gets a hammer dropped that his insurance has lapsed and his medication can't be refilled. As a struggling writer and bouncer at his friend Bob's (Danny Glover) bar, there's no way he can afford to buy his latest prescription and not taking his meds isn't the best idea if he wants to stay healthy.
As he tries to find his way out of the mess that is today's healthcare system, his friends are also struggling from their own situations. His roommate and best friend, the normal-on-the-outside but lonely-on-the-inside Paula (Robin Weigert), has developed a strange relationship with a stuffed monkey. While Bob has just separated from his wife, Dot (Khandi Alexander).
The cast is wonderful. Roday has such a naturalness to him, it's like he's not even acting. And his scenes with Glover are incredibly sweet, especially the scene where they both sitting at the bar, swallowing their various pills and medications. Weigert manages to stay grounded while fawning over a white, stuffed monkey. I wish Alexander, who is always terrific (have you seen HBO's The Corner?), had more to do but I'll take some Alexander over none.
This is Tom E. Brown's first feature length film and as a director and writer, he's got chops. It looks great and the performances he got from his cast is again, impressive. It is a bit uneven at times though. Some of the scenes go on a bit too long and there are times where peripheral characters have their moments to show their idiosyncrasies. They are funny but they take us out of the story and take time away from the characters we're already invested in. There is also some kind of – is it sci-fi? – element to it. A strange girl mysteriously appears every once and a while to spout famous quotes ("There is nothing to fear but fear itself") to the other characters, even minor ones, and it's distracting to say the least.
PUSHING DEAD recently premiered at the NewFest in New York. It also recently screened at the Austin Film Festival and Chicago International Film Festival.