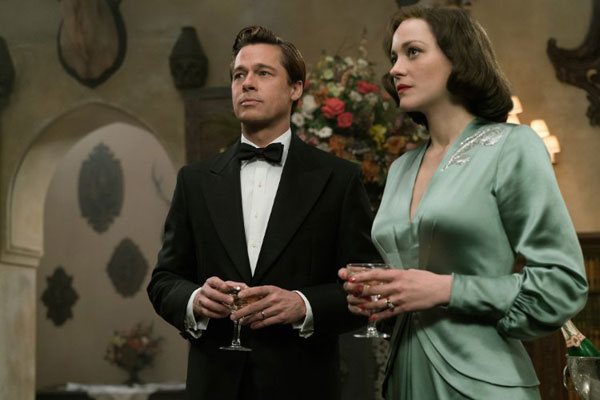 Director Robert Zemeckis is one of the best craftsmen working today. The past decade or so though, his films felt like the spectacle of it was the true draw, not the story itself. A Christmas Carol and The Walk employed state of the art technology but the movies themselves were… ok. You left thinking, "Wow, that looked great." But that's it. And Flight, save for the plane crash and James Badge Dale's incredible monologue in that hospital stairwell, was frustrating. With Allied, Zemeckis is back to pure storytelling, no gimmicks to be found.
It's 1942 and Canadian intelligence officer Max Vatan (Brad Pitt) has come to Morocco to rendezvous with a French Resistance fighter Marianne Beausejour (Marion Cotillard). They've been assigned to pose as a married couple, get involved in the upper-echelon of the Nazi sympathizer elite and then carry out a mission to kill a German Official. Everything falls into place until the two fall in love.
Cut to a year later and the two are now living in London, married with a child on the way. But, this being a Zemeckis film (alongside screenwriter Steven Knight), there's a giant twist headed their (or is it our) way. It goes from a war-time action film to a spy-thriller, with drama and romance sprinkled throughout. I don't want to say any more than that, it's much more fun (maybe I should say shocking?) for you to discover it for yourself.
The film feels like a contemporary version of films made back in that era and Pitt and Cotillard make a great pair. She's got some secrets behind those eyes and Pitt's Vatan, calm and serious at first, is worn down by his love for her.
One odd thing: At times Pitt's face looks digitally enhanced. How could he look this young?
The film, which also stars Jared Harris, Lizzy Caplan and Matthew Goode, is a nice escape to the films of Hollywood yesteryear.