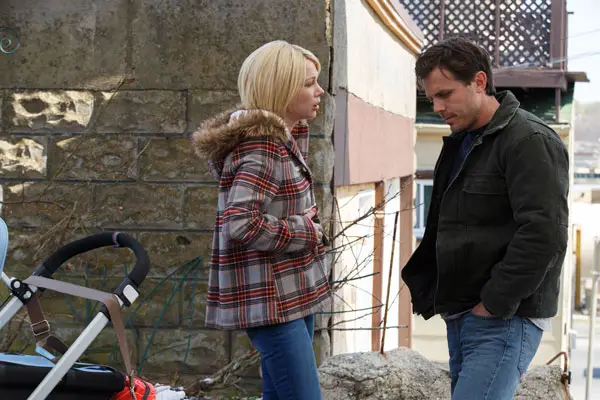 After watching Kenneth Lonergan's latest film, Manchester by Sea, earlier this week, it's been nearly impossible to stop thinking about. It's a beautifully sad story about life, loss and family that's easily one of the best movies of the year.
Lee Chandler (Casey Affleck) is a janitor working in Boston. His days are filled with plunging toilets, fixing showers and helping old ladies replace the lights on their ceiling. It's a pretty lonely existence and you can see it has worn him down. When he gets a call that his older brother Joe (Kyle Chandler) has just passed away, he rushes back to his hometown of Manchester only to learn that Joe has made him the guardian of his teenage nephew, Patrick (Lucas Hedges).
While there, he's forced to re-live his past and why he left in the first place. This also means he has to see his ex-wife Randi (Michelle Williams) and work out feelings that have been buried deep inside him for years.
Manchester is a working class community, a fishing village where the men hold their emotions in and Lee is a shining example of that. Which makes his brother's death even more unfortunate because Joe seemed to break the mold of that stoic guy with little feelings. He did everything to help Lee, whether he wanted it or not. We learn this from the flashbacks throughout the move. We discover the reasons why he left, his divorce and the reason for his brother's death.
Patrick is a normal 16-year-old kid, not some writer's idea of one. He's got problems, friends and one too many girlfriends to choose from and Hedges is wonderful. There's not a false thing about him in the role. Patrick's got a life in Manchester which works against Lee's idea of the two packing up and moving them to Boston. The two now have to figure out how to become a family, a different kind of family with the loss of Joe.
Affleck has never been better. You can see the pain in his eyes from the very first second on screen. For a lot of the film, you have no idea what is going on with him. Is he an anti-social jackass? Is he lonely? What's going on? Even though we don't find out till later, it's a sure bet that you're on his side. He's so on the mark here, it's perfection. And his scenes with Williams are great, especially their final scene.
Williams, who's only in the film for a handful of scenes, gets the cadence and attitude of working class New England. Again, in their final scene, it's been years since their divorce and she's a different woman. Those few scenes she's in, she's managed to create a life in between those years, yet she's still carrying that pain.
Lonergan isn't afraid to have long silences here and it adds so much to the drama and even the humor, which there is a lot of, especially between Lee and Patrick. If you see this now, you'll already have a leg up come Oscar season.