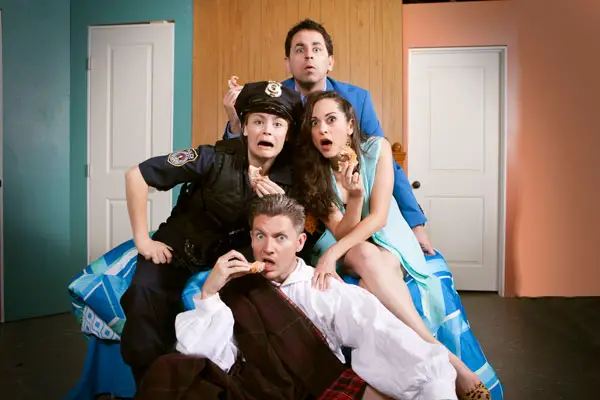 Unnecessary Farce, North Coast Repertory Theatre's latest offering, definitely lives up to the 'Farce' part of its title. It's one big absurd situation after another and you're pretty much guaranteed to laugh your socks, or kilt, off.
The show, written by New York based actor Paul Slade Smith and directed by Matthew Wiener, takes place in a non-descript hotel room where two undercover cops (Christopher M. Williams and Jacque Wilke) wait to take down an embezzling mayor (Ted Barton) with the help of his account (Jessica John). In the room next door, the hidden cameras are in place and the video recorders are all set to go but as the clock ticks towards the meeting, a Scottish hit man (David McBean) appears, the mayors security guard (John Nutten) isn't who he seems and not one thing goes according to plan.
Like Unnecessary's excellent farcical cousins before it, Lend Me a Tenor and Noises Off, we're treated to slamming doors, mistaken identities, bumbling characters and perfectly timed physical humor, most notably from the excellent Wilke. Her Officer Dwyer is a cross between Urkel and a Keystone Cop and whenever she's on stage, you can't not watch what she's doing because she's that funny.
As Todd the Scottish hit man, McBean, is equally good. His unintelligible rants about… well, who the heck knows because they're unintelligible, is worth the price of admission.
The rest of the cast is very good and work together like a well-tuned instrument.
Wiener starts the show at a level 8 and it just keeps getting higher and higher. The only real issue I had was that the intermission stopped all the hilarious momentum of Act One. We had to ramp up all over again in Act Two. That's no fault of anyone in the show, but thankfully Wiener gets us back pretty quick to that level.
As they said in Spinal Tap, "This one goes to 11."
The show, also starring Dagmar Krause Fields, plays Wednesdays at 7pm, Thursdays through Saturdays at 8pm, Saturday and Sunday matinees at 2pm with Sundays at 7pm, through May 10, 2015.
Tickets: Week Nights – $44; Sat. Eve. & Sun. Mat.- $48; Sat. Mat. & Sun. Night – $41. Seniors, Students, Military – $3 off admission.
North Coast Repertory Theatre is located at 987 Lomas Santa Fe Drive, Ste D, Solana Beach, CA 92075.   Call 858-481-1055 or visit www.northcoastrep.org to purchase tickets.