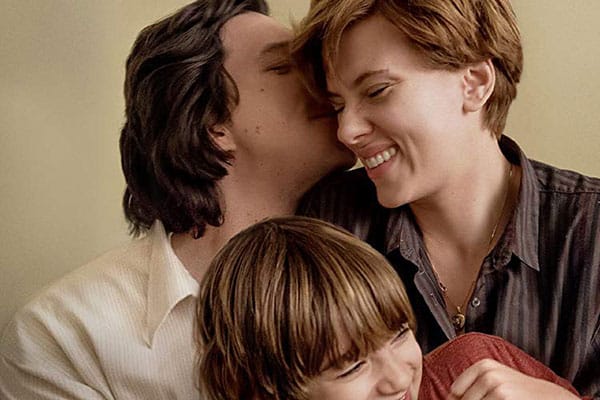 Be prepared to see a lot of stories about writer-director Noah Baumbach's new Netflix film Marriage Story. Each story will probably say how great it is, how brilliant the actors are and how he's captured the demise of a marriage piece by every tiny piece. And each of those stories are absolutely right.
Adam Driver and Scarlett Johansson star as Charlie and Nicole Barber. Nicole was an up and coming young actress in Hollywood when she met Charlie, a struggling New York City theater director. She loves his passion and he loves her talent. They begin dating and soon, get married. Nicole works tirelessly with him to make his theater company a success, starring in every show, becoming one with his vision. To where she almost loses herself.
When she wants to start her film career again, Charlie bristles. She and their son, Henry (Azhy Robertson), move back to Los Angeles to stay with her mom (Julie Hagerty) while he stays in the city to work on his upcoming Broadway debut. He flies out as much as he can to see them but it starts to take its toll. Especially since Nicole starts to work more and more.
Then she drops the hammer and asks for a divorce.
Driver and Johansson are perfect. I mean, absolutely perfect. Their performances are nuanced and genuine. Even when they're arguing, you can tell that there was love there. Johansson has a long monologue detailing her life with Charlie that is textbook in its brilliance.
Laura Dern give a knock-it-out-of-the-park performance as Nicole's lawyer as does Alan Alda,  who plays Charlie's way too kind divorce lawyer. And once Charlie dumps him, we get treated to Ray Liotta's take-no-prisoners divorce attorney.  The film is also chock full of New York theater actors like Wallace Shawn, Gideon Glick and Matthew Maher.
Baumbach layers his story of Charlie and Nicole Barber so effortlessly that it feels like it's over an instant. Think of it like taking one piece of thread to slowly unravel the whole sweater. It's sad and funny and deserves all the accolades it's getting.