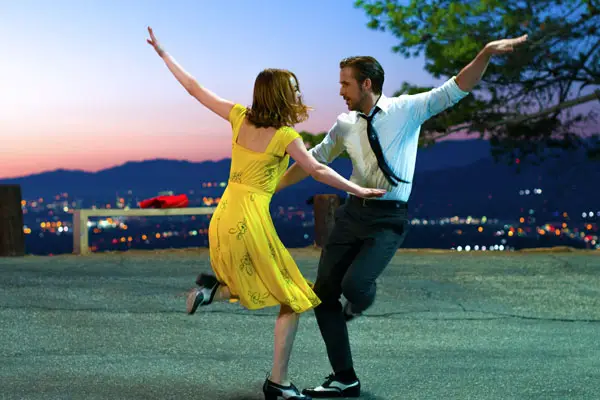 Damien Chazelle (Whiplash), the writer and director of La La Land, deserves a big, huge heaping of praise. There hasn't been a new film musical in a while and what he's done is a definite achievement. His La La Land is a beautiful portrait of colors and bright city lights and people determined to make their mark in the world.
The original music is catchy, the story timely and the stars, Ryan Gosling and Emma Stone, are in an acting sense, perfect.
Except…. they aren't the best singers or dancers. Which is, you know, essential in a musical.
What makes their lack of triple-threatness even more glaring is that they are surrounded by a cast of supporting actors that can sing their socks off.
The film opens on a highway in Los Angeles, where dozens of people are stuck in their cars from a traffic jam. As expected, we get an incredibly fun opening number where everyone gets out of their cars, singing and dancing. The segment, with its high energy and one take shot, ranks up there with opening movie musical numbers.
After that, except for one cute number with Mia's roommates, it's mostly Stone and Gosling and their sing-talking. They do fine, don't get me wrong. But there's no numbers with any belts. Those numbers where you sing them in the shower or car. A number where you sing at the top of your lungs like no one is watching and feel alive.
The story follows Mia (Stone), an aspiring actress who, in between humiliating auditions, works at a coffee shop in a major Hollywood studio while jazz musician Sebastian (Gosling) spends his nights working as a piano player in a restaurant. The two eventually meet (in a very "meet cute" way) and fall in love but as they both become successful, that success begins to pull them apart.
The movie is likeable and funny, yet extremely frustrating. Hey, it's about pursuing your dreams in LA! Something, if you're reading this site, we can all relate to. I just wish the stars had a belt or two in their pockets.