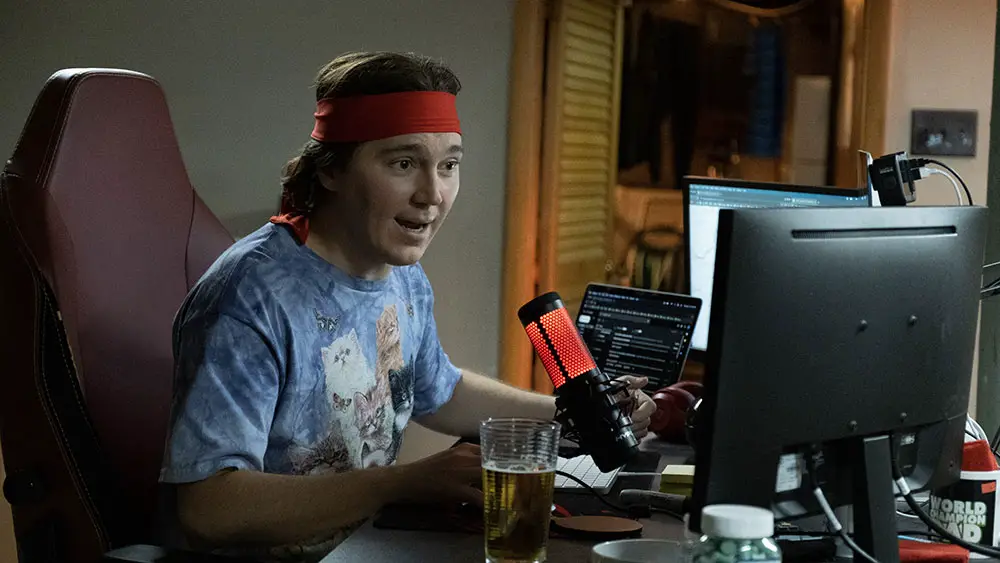 During the pandemic, when we were all either staring at a wall or staring at a TV, there was one huge story that captured a lot of attention… besides Covid-19. That was the surging stock price of GameStop, the video game store that's ubiquitous in almost every mall in America. It was a big topic in my house because my wife plunked some cash into it.
It was a good story and a nice way to distract people from real life. Director Craig Gillespie and writers Lauren Schuker Blum and Rebecca Angelo must have thought the same thing with their new film, Dumb Money.
A Reddit user named Roaring Kitty (Paul Dano) has been posting videos, touting how much he thinks that GameStops stock price is undervalued. He starts loading up all of his money, buying as much stock as he can and filling in his viewers on what he's been doing. Other users on the subreddit begin to take notice and soon, the stock skyrockets, making people either insanely paper-rich. Roaring Kitty is becoming a virtual Robin Hood, a zero for the pandemic era.
Roaring Kitty AKA Keith Gill is a regular guy from Boston. He's married (Shailene Woodley, who is great here) with a child and doesn't particularly have a lot of money. He just loves the stock market and GameStop. As his videos catch steam, we're introduced to a handful of people across the country who take notice and decide to jump into the action. A nurse (America Ferrara), a couple of college students and an actual GameStop employee (Anthony Ramos). All are in debt in one way or the other and we watch as their stocks rise and fall throughout the film. You just feel for all these people, especially Ferrara.
Meanwhile, the gatekeepers, the hedge fund managers, have caught wind on what's going on and they are not happy, to say the least. A guy named Gabe Plotkin (Seth Rogen) laughs at the stupidity of these "normie's" putting their dumb money into the stock, so he decides to short the stock even more than he had. Shorting stock is where you bet against a company making money. Kenneth Griffin (Nick Offerman) and Steve Cohen (Vincent D'Onofio) also have their hands on the scale.
Even the guys behind the Robinhood app (one is played by Sebastain Stan), the app that made most of these trades possible, start to use some shady practices when people start wanting out from the stock.
The cast is terrific and Dano once again show's just how mind bogglingly versatile he is. It's fun to see Rogan's character get his smarmy comeuppance. The way Offerman carries himself, his posture and the way he walks like an upper crust elite, it just makes him have the world's most punchable face.
It's a total Them vs Us story and it's maddeningly frustrating how the Them's never really got into trouble with how much they tilted the scale in their favor.