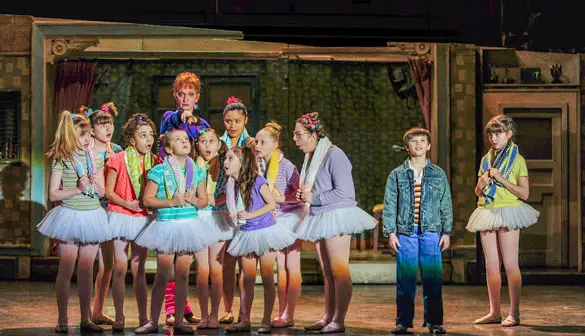 Up until last night, I'd never seen Billy Elliot the Musical.
I know. I'm such a bad theatre geek.
I'll also admit that I've never seen the movie either. That's two strikes against me, right?
But, there's no third strike because I thought the show, currently playing at the San Diego Civic Center, was great.
The story is set in the 80's around a miners strike in Northern England. Young Billy Elliot (Mitchell Tobin in the performance I saw) is living with his striking father (Rich Hebert) and brother (Cullen R. Titmus) when he stumbles on an unknown talent after boxing class: ballet. As he struggles with the idea that boys aren't supposed to do ballet, the chance to audition for the Royal Ballet School in London appears and he's got to figure out what to do. With the prodding of his ballet teacher and the eventual of understanding of father and community, he makes the leap and heads to London.
I usually steer away from shows featuring kids. They are always Acting with a capital A! and I usually can't bear it. But, young Mitchell Tobin was fantastic as Billy. This kid has more talent in his two-tap dancing feet than most of us will ever have in our whole bodies. He can sing, dance and acts up a storm and he had the audience in the palm of his hand.
Another young actor, Jake Kitchin, plays Billy's best friend Michael and he's equally good. Both Kitchin and Tobin sing and dance their hearts out in 'Express Yourself' towards the end of Act 1 and that was hands down the best number in the show.
The soul of the show though was the Rich Hebert as the father. Hebert, who's been with the show for 3 years now, and it shows. He's capable of stealing a scene with just a look and his presence in any scene made it that much better.
One odd thing happened during the show though: Towards the middle of Act 2, there's a dance number between Billy and his older self. At some point in the number, Tobin hurt himself and had to exit the show. His standby for that night, Noah Parets, jumped into the role without missing a beat. Unfortunately, it took me out of the show for a bit. Not saying that Parets was bad. He was really good… but imagine if you were watching Daniel Craig as James Bond and 2/3rds into movie, Pierce Brosnan jumps into the role. Both are Bond but they're totally different; mannerisms, dancing style, singing voice. It just took some getting used too and it's unfortunate because I would have really liked to have seen Tobin in the end scene. That being said, Parets quickly won me over and it would be fun, I think, to see his Billy. Tobin, we were told after the show, is fine.
One drawback though, the characters are constantly saying, "Oy" to one another. As of this writing, I've said "Oy" at least 14 times. 11 of those times were to my cats. 
Billy Elliot is currently playing in San Diego. Visit Broadway San Diego for ticket information. Next stop is San Jose and Las Vegas. For tickets and more tour dates, click here.