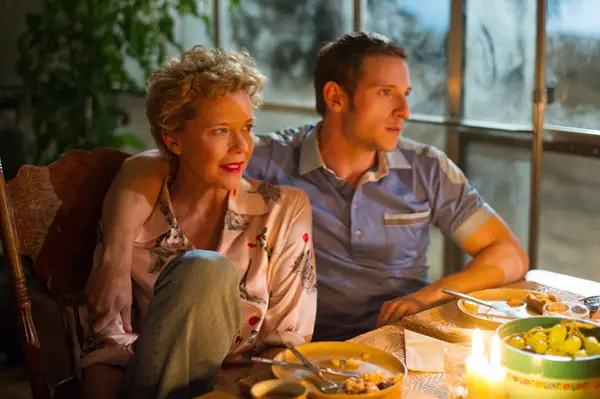 Biographical films have always been a good source to learn about history and historical figures  (think Spielberg's Lincoln or the African American women in Hidden Figures) or famous figures with an interesting past most have never heard about (Ray Charles is an example).
So, it's curious as to why the filmmakers of Film Stars Never Die in Liverpool chose to tell the story of Gloria Grahame, a long-forgotten film and theatre star. It's not to say that her life isn't film worthy, but the particular time in Grahame's life that the filmmakers chose to tell is rather strange.
It's based on the book by Peter Turner that tells his story of life with Grahame. Turner (Jamie Bell) was a young actor in Liverpool when he met and began a relationship with the once famous film star, played by Annette Bening.
Grahame has just moved into his apartment complex while staying there to do a play. They bond over acting and, even though there's a huge age gap, soon become inseparable.
He eventually follows her to New York to live and work on his career. Things go sour after a while so he moves back to Liverpool. Time passes and he see's that she's doing another show nearby and goes to visit. But – and this is not a spoiler – she's now gravely ill. He invites her to come stay at his house where he and his parents can tend to her.
The story is told and flashbacks, moving between the present of the movie and the past. It works well because it does add some interesting shifts to the story but it still doesn't make it particularly interesting.
In Grahame's early life, she won an Oscar and was married four times – her final husband was the son of her second husband, Nicholas Ray. She also had breast cancer early on in her career and refused to get chemotherapy because she was afraid her hair would fall out and she wouldn't be able to get any jobs. That sounds like a way more interesting film than the one presented here.
There's also a very brief moment where both Grahame and Turner reveal that they are bisexual. It's a scene that last about a minute and that's all we ever hear about it again. It didn't move the story forward so it's odd why they chose to include that bit of information.
He's the rock of the relationship and you can tell he absolutely cares for her. She's got this breathless, doll-like voice and has an air of obliviousness to her. They are both great but they can't do all the work to make the poor choice of story interesting.