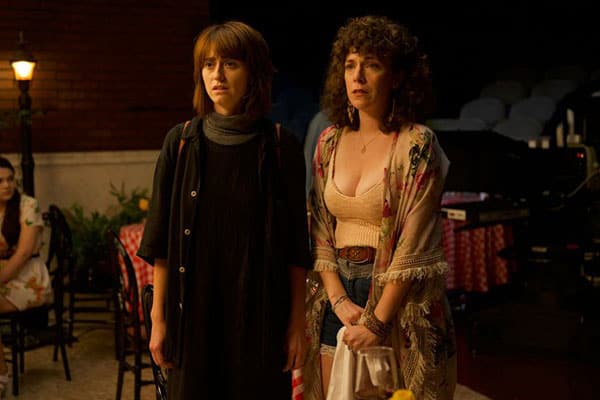 With a note perfect cast, quick-witted script and direction to match, Before You Know It, marks a terrific directorial debut for Hannah Pearl Utt.
Written by Utt and Jen Tullock, who also stars in the film, it centers on a family who live above a small independent theater that they run in New York City. Utt plays Rachel, a stage manager and seemingly the only sane adult of the bunch. Her sister, Jackie (Tullock), is an actress who is as flaky as they come, which irritates her daughter, the level-headed Dodge (Oona Yaffe). Add their
When their father, Mel (Mandy Pantinkin), a playwright who is definitely the complete combination of his two daughters, suddenly dies, the two sisters are told by the father's lawyer (Ben Becher, who kills his quick but funny role), that they never really owned the theatre at all. Their mother owns it. The mother that Mel said died when they were both kids.The mother who is very much alive and the star of a popular daytime soap. You know, that mother (played to the hilt by Judith Light).
The two covertly seek her out and attempt to get her to sign the deed over to them. As this is going on, Dodge is having a crisis of her own so she seeks stability with the theatre's accountant, Charles (Mike Colter) and his daughter.
This is the kind of film where you know everything will work out in the end but it's the fun and enjoyment that you get watching the characters and the journey they are having. The acting is wonderful (Alec Baldwin also appears as a deadpan psychiatrist) and Utt does a wonderful job of bringing that energy of New York City into each frame of the film. This is absolutely one of those films that's just gets better and better with each viewing.