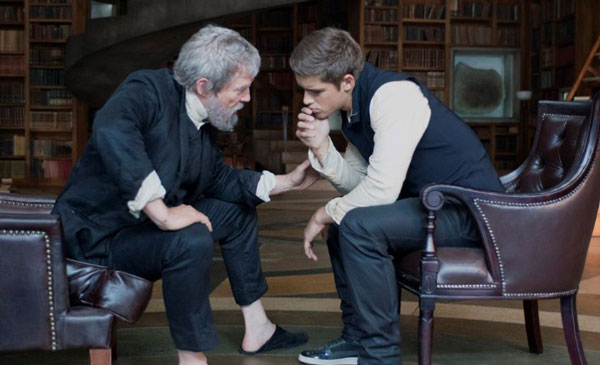 The Giver, based on a wildly popular young adult novel by Lois Lowry, is a huge disappointment.
The film has a nice cast – Jeff Bridges as the Giver, Meryl Streep, Alexander Skarsgard, Katie Holmes and Brenton Thwaites. But as good as they are, they can't salvage this mess.
The world of The Giver is a colorless (literally), utopian society. There are no wars or suffering. No pain, no lies… no fun. The society is governed (ruled) by Chief Elder (Streep) and a handful of nondescript Secondary Elders. I guess that's what their called because it was never explained. The townsfolk have no memories of anything. No history, no past. They don't even know how to clap properly (they take one hand and slap it on their leg). The only one who remembers the past and how to clap is The Giver (Bridges).
We then get a scene that's straight out of Harry Potter but since The Giver was written way before Potter my mind is exploding. The town is gathered together and the names of the young people are called out. They walk on stage and are told what their job in life will be: birth mother, drone pilot, geneticist and a Giver.
Jonas (Thwaites, who was very good in The Signal) is the town's new Giver. He's tasked with learning all of the secrets from Bridge's Giver but he soon realizes that his town isn't the nice, family society he thought it was.
Directed by Phillip Noyce, the first part of the film has an early 50's Disney feel to it. It's shot in black and white and everything is perfect. Trouble is, most modern black and white films have a depth to them; deep and rich blacks, whites and greys. This b&w has no depth to it. It's flat and lifeless.
But, that's because the town is flat and lifeless. Their lives are flat and lifeless.
And that's a huge problem as an audience member.
The characters, except for Bridges, Streep and Thwaites, are emotionless and bland. The actors seem like they're acting like humanoids, complete with really bad dialogue. What may have been interesting in the book does not work here in the film. How are we supposed to connect with characters that have no life behind their eyes?
There are way too many close-ups too. Again, the audience needs to see what's happening in the scene to connect with the characters. Maybe Noyce added them to show that the main character weren't emotionless. "Let's show Bridges in close-up. He's got life in those eyes!"
By the time Jonas starts to rebel and color seeps back into the world, it's too late. My mind was wandering and I started to think what I was going to eat for dinner. Something that wasn't bland I was hoping.