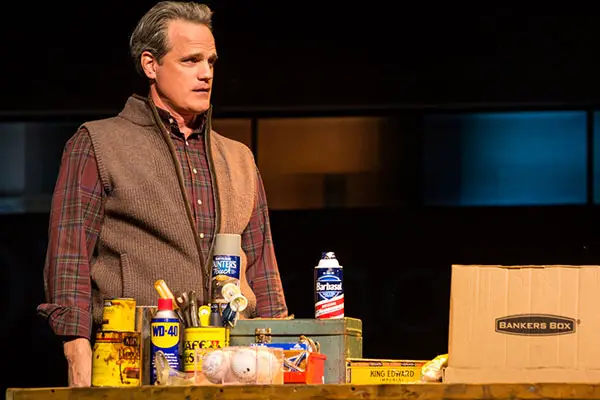 "I'm always a little bit nervous but those nerves help inform characters sometimes." – Michael Park on Auditioning
You will be found. That's a song from the incredibly moving Broadway hit, Dear Evan Hansen, and the message that it's star, Michael Park, thinks is it's most important. The show is about trying to fit in and wanting to feel like you're a part of the world around you. "If you're feeling lost, you're not alone in this feeling," he said.
Park, who won two Emmy Awards for his work on As the World Turns, stars as grieving father Larry Murphy considers himself to be "fortunate" to be in the show. In this interview, he talks about auditioning and the nerves we get right before going into the room or on stage, Dear Evan Hansen and what's going through his head when he sings Larry's song from the show, 'To Break In A Glove.'
I realized earlier today that I saw you in How to Succeed in Business Without Really Trying. I loved that show, it was so fun.
Michael Park: That was a fun show. I'm really happy that I was a part of it, to tell you the truth. It's one of those rare moments, especially after As the World Turns had shut down, I really didn't know what I was going to be doing for the rest of my life when I grew up. And then Rob Ashford, the director, who also directed me in a couple Encores Series at City Center, I'm so glad that we rediscovered each other and hired me to play Mr. Bratt. And I gotta tell you, I was on the younger side of all the people at the audition, so I was a little nervous to tell you the truth.
You still get nervous at auditions?
Michael Park: I'm not a good auditioner. I'm really not a good auditioner, at least I don't think I am. Yeah, I get nervous. Listen, as soon as the nerves kind of go to the wayside during the audition or during performances in general, then something is off. At least for me. I'm always a little bit nervous but those nerves help inform characters sometimes. So it's kind of fun. I love the nerves.
I have an audition tomorrow and I know I'm going to be completely nervous. My wife a while back bought me some tea for that and now it's kind of like a tradition anytime I have an audition.
Michael Park: There's also some, I believe, holistic elixir that you can put on your tongue and it really does help. I don't know what it's called. But it's okay to be nervous. Have you seen La La land?
Oh, yeah.
Michael Park: Anybody who understands the environment of an audition, La La Land really spells it out for you. You don't know what you're walking into when you enter an audition room. It can go either way and you have zero control over what someone is feeling at any given time. So, it's not about you, Lance. It's never about you. [laughs]
It's always about me! Was How to Succeed the thing you did after As the World Turns ended?
Michael Park: While As the World Turns was still running, I wanted to kind of get out and do just about anything I could get my hands on. I was saying "yes" to anything and everything; readings, workshops, even if I wasn't right for the character.
While As the World Turns was running though, I was doing a show called The Burnt Park Boys and that was at my old stomping grounds Playwrights Horizons, where we did Violet. But I really wanted to get back into the throes of doing a show eight times a week. I thought that would have been the most logical next step for me.
After As the World Turns, I went to Williamstown Theatre Festival to do a show called The Last Goodbye, which was Romeo and Juliet infused with Jeff Buckley's Grace and that was nothing short of absolutely brilliant. The concept was kind of amazing.
After I come home from that, I think I did another play called Middletown at the Vineyard Theatre and that was a Will Eno play. And then while I was doing Middletown, I was auditioning for How to Succeed.
There are only been a handful of shows that really stuck with me after I've seen them: Rent and The Normal Heart are two and Dear Evan Hansen is now one of those shows. Every moment in the show is just perfect.
Michael Park: That's nice of you to say. It's nice to be considered in the same breath as The Normal Heart and Rent, to tell you the truth. I'm glad that it stuck with you it means that the writers and actors were all doing our jobs.
I think the show speaks to people differently, depending on how old you are. I heard teenagers sniffling and crying. It affected me another way because I'm about to have a child. This sounds like a weird question, but do you consider yourself lucky to be in the show?
Michael Park: I don't use the term lucky. I like to consider myself fortunate, if that makes sense. Because luck leads you to believe that all of a sudden something blossomed in front of you for no apparent reason, in which case this wasn't that. This was one thing leading to another, leading to another, leading to another that got you to this place. That's what I think about the show.
If it hadn't been for Michael Greif coming to see Threepenny Opera and being introduced to him by Sally Murphy and meeting him at the opening of the Broadway run of Violet, yes you can say that I probably wouldn't have been considered for this. Or maybe I would have, I don't know what was going through Michael Grief's mind at the time. But I'm just so fortunate that he thought of me in this role.
And to speak on how it affects kids, you're about to have a baby and you guys are gonna be fantastic parents, but I have three; one is 19, the other 16 and one about to become a teenager. The show is a calling card to anyone who feels lost or feels a sense of abandonment. And I'm not naïve to think that I know my kids inside and out, I'm sure there are some things that they hide from me, believe me. But I hope the show starts a conversation and I hope it infuses a sense of worth to kids that just don't know where they belong yet in life. And I hope that they realize that they're not the only ones who feel this way.
The importance of the show is in the message that we send every night: that you will be found. If you're feeling lost, you're not alone in this feeling. If you have a question, talk to your parents, talk to someone about this never ever, ever think that you're the only one going through this rough patch. There are so many people out there that want to help you, that you may not think of but they are there
You said Michael Greif contacted you about the show but you were involved right from the very beginning.
Michael Park: He invited me to a table read of this. I hadn't read it yet. I believe Jennifer Laura Thompson, Rachel Bay Jones, Ben Platt and I were the four at that original table read and we were absolutely crushed by the end of it. It was virtually perfect and the changes that they made in the last three years were nothing short of brilliant.
When you guys moved to Second Stage, you weren't in that run?
Michael Park: I was doing a show called to Tuck Everlasting on Broadway, a show I had been with for a number of years, like five and half, six years. So yeah, I was lucky enough to be a part of two Broadway shows in the same year almost.
That's awesome.
Michael Park: Yeah, I'm very grateful for the opportunities I've had this year.
You went to see the show when it opened at Second Stage. When you saw that version of the show, did that inform your performance at all?
Michael Park: I would definitely say that's the perfect word, it was very informative. To see what John Dossett did with the character was extremely helpful and to know the trajectory of everyone's character and how the characters kind of influence each other was also extremely helpful. I hope that everybody gets to the swing out and see the show from the front. Whatever perception you have of what you're doing on stage is magnified by the other characters going on this journey with you. So yeah, sitting there and watching Larry go through his catharsis at the end of Act I was extremely powerful, it wasn't something that we did in the production in [Washington] DC. I was sitting in a puddle in my seat to tell you the truth.
You do such a wonderful job as Larry. He's this aloof father who obviously cares about his kids but you can see he's got other things going on. His arc and especially your song, 'To Break In A Glove', it's all terrific.

Michael Park: Thank you. Again, I'm remembering stories that my father would tell me. At one point in my life, my father had broken in this Rawlings glove that I coveted. Aw, I loved this glove so much. And it was the start of the Little League season and I didn't know where my glove was. My father didn't say a word. He wasn't upset. I knew that I had really screwed up by losing my glove and I looked everywhere for it. I prayed to St. Anthony to help me find this glove. And I don't know why, but I put it in this bush and it was in the bushes all winter long. And the snow in Canandaigua, New York is monumental at that time. I find the glove and it's not rotted out but dried out. My father helped me re-hydrate this thing and make it pliable again because it wasn't like we could just go down to the store and by new glove in those days. We didn't make a lot of money, my family, so it was a big deal when I lost my glove. And my dad working this glove in again with me is just a memory that I'll never forget and it's with me every night on that stage. I carry that with me.
Finally, what is the worst audition you've ever been on?
Michael Park: There have been so many, Lance, I don't know if I can even categorize them.
The worst auditions you have are when the people that you admire most and have such faith in you…. It's those times when you fail during those moments, it's not just hard on you but you feel like you've let other people down as well. Those are the hardest bad auditions to face.
I was auditioning for Madigan Men, a sitcom back in the late 90s. The casting director only brought me in to meet the producers and the director. And it was this torrential rain and I was coming from Brooklyn coming from As the World Turns to audition for the producer and director and I was so drenched and I got there late because of traffic. Everything that could've gone wrong went wrong and I carry that with me into the audition room and it was awful. It was laughable how bad I was. I felt like I had let that casting director down knowing that she had so much faith in me.
For tickers and info: Dear Evan Hansen