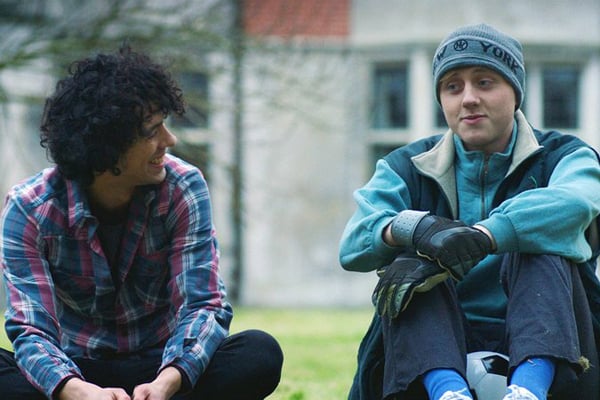 San Diego Film Festival 2018
Making a film about a drummer with mental illness who is forced to befriend a teenager with Asperger's Syndrome would seem like a risky prospect to most. The film could easily slide into preachiness and become an insufferable mess. But writer/director Nick Kelly takes the idea and creates a story about friendship and tolerance that is so sweet and uplifting, it'll remind you about what being a true friend is really about.
In the Irish film, The Drummer and The Keeper, we first meet Gabriel (Dermot Murphy), a drummer for an up-and-coming band, with his mental illness on full display. He's setting fires and acting out and his family and bandmates finally urge him to get help. Reluctantly he does and the doctor prescribes him both medication and forces him to join a football team (soccer here in the states) as a form of therapy for his bipolar disorder. There he meets Christopher (Jacob McCarthy), the keeper (goalie) of the squad, who's got Asperger's. The two butt heads at first, making Gabriel quit. But in order to keep his therapy going and his job in the band, he has to go back and apologize to Christopher.
The two begin to spend more time together, especially since Christopher starts coming to the band's gigs, which the band mates welcome because he shows an uncanny ability to pack and unpack the instruments. He's so efficient, in fact, that they invite him to become their roadie.
Meanwhile, Gabriel's medication is affecting his drumming and the band boots him. Not wanting to risk missing out on his dream and his identity as a rock and roller, he stops taking the medication and quickly destroys everything that he's been working towards, including his friendship with Christopher.
Kelly is a promising director and writer who makes even the quickest scenes interesting. But the casting of Murphy and McCarthy is what truly drives the film. Both actors are excellent and immensely talented. They both give detailed and nuanced performances and it's a sure bet that you'll see them again and something else very soon.