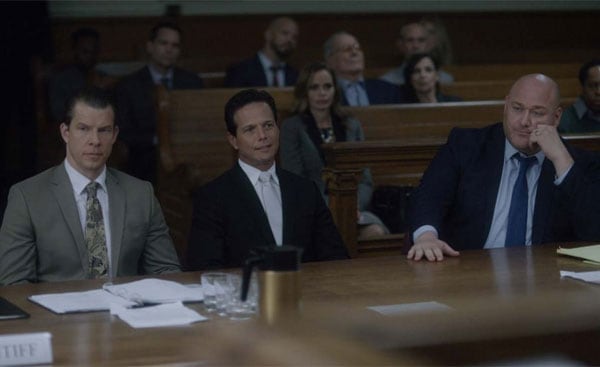 If the Lifetime network ever made a movie specifically for men, Inside Game would be that movie.
Actor Randall Batinkoff makes his directorial debut with the story of the 2007 NBA scandal that had referee Tim Donaghy (Eric Mabius) use inside knowledge of the games he was reffing to help him and his childhood friends, the shifty Tommy (Scott Wolf) and bookie Baba (Will Sasso), make millions.
Donaghy would take his info and, in code, tell it to Tommy who would then relay it to Baba. Baba would take that and turn it into cash. Lots and lots of cash. Things are going gangbusters until Baba starts to get greedy. He starts betting more and more money – and losing more as his bets get riskier and riskier. Soon, the FBI gets wind of what's going on which, as you can imagine, make things even worse for the three friends.
As Baba starts popping pills and using coke and acting like a mob boss, his paranoia gets more intense with each and every scene. Meanwhile, Tommy, newly-married I flush with cash, is acting like he doesn't have a care in the world. And Donaghy seems to feel like nothing can catch him.
It's a great, interesting story but as it progresses it starts to get a bit melodramatic. Baba falls through a table glass table and Tommy almost gets whacked by a couple of Philly thugs. There's even a scene where Donaghy's father (Michael O'Keefe) glances at his son on the witness stand just at the right time, making sure he does the right thing. Did things really happen this way? Possibly. But in the film, the escalation seems a bit much and feels like it should be toned down a couple notches.
And at certain points throughout the film, screenwriter Andy Callahan has Wolf's Tommy become a narrator. It comes in and out at odd times and takes you out of the story when it happens. We're not seeing the film through his eyes, so it seems a bit strange to have him narrate.
Wolf, Sasso and Maibus are very good and engaging but it would have been nice if they had a bit more nuance of character and dialogue to sink their teeth into.