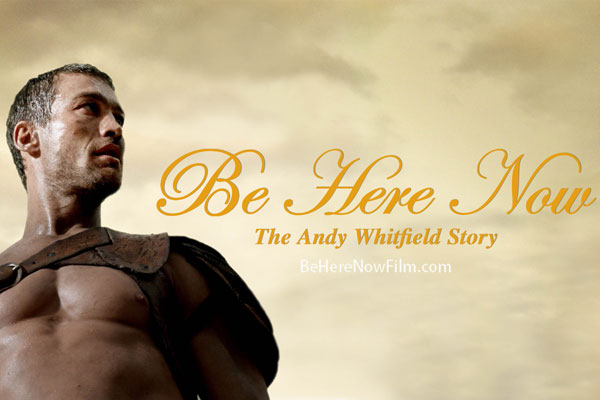 The only way to describe Be Here Now, the story of actor Andy Whitfield's quest to find a cure for his cancer diagnosis, is sadness. Heartbreaking sadness.
Everyone has been touched by cancer in some way, and to watch Whitfield and his wife, Vashti, battle this terrible disease will make anyone an emotional wreck.
Whitfield had just scored his first major acting role with Starz's Spartacus. He'd signed a 6-year contract with the network and his life and career seemed unstoppable. He was young, vibrant, incredibly fit and had the world at his feet. But then, after filming the first season, he went to a doctor because he felt so drained. The news was devastating. Whitfield was diagnosed with stage 4 non-Hodgkin's lymphoma.
The documentary, directed by Oscar Nominated filmmaker Lilibet Foster, follows Whitfield and his wife over the next eighteen months as they search for some kind of cure to heal the actor. They follow his chemotherapy, his trip to India in hopes to find an alternative to traditional medicine and along the journey, we see Whitfield and how he deals with everything life has thrown at him.
We see the good – his loving relationship with his wife, parents and 2 children – and the bad – the way chemo tears apart your body and messes with your mind. There are times when he flips on the camera and he's filming himself, telling us how he's feeling and dealing with it all. Sometimes he tears up (rightfully so) and it's riveting.
The film is as much his story as it his Vashti's, his wife. As stong as he is, she's stronger. She's the rock, or at least she is until she's alone with the camera.
The film is hugely inspirational, oddly enough. For anyone who wants to follow their dreams and hasn't made that jump, watching this man cut down so young in life when he was on the verge of capturing all of his own dreams, makes you want to drop everything and start your own journey.
Be Here Now refers to a tattoo Whitfield has on his forearm. It's about "being present" at all times, he says. We're all guilty of not being there, being present and watching Whitfield struggle to stay here, to stay alive, it's hard not to be inspired by the love he has for his family, his friends and life. Even when in pain, he was there for his family. He was always present. From now, it'll be hard not to 'be here now.'
If you're interested, I did an interview with Whitfield back in 2010 which you can check out here.
'Be Here Now (The Andy Whitfield Story)' opens in NY tomorrow, April 8th, and in Los Angeles on April 15 in Los Angeles/Nationwide via Be Here Now Productions and TUGG. BeHereNowFilm.com has more information on additional screenings.