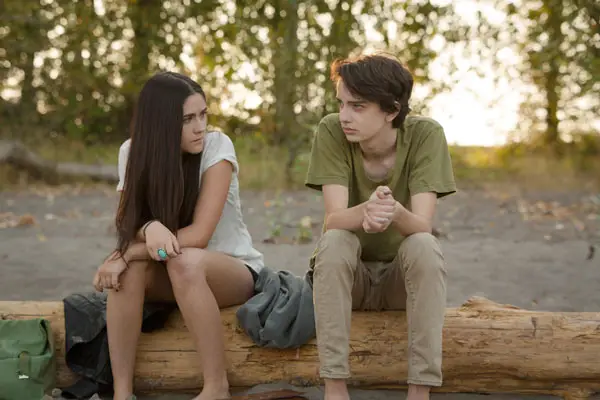 Imagine if your father died when you were young. That event alone would transform your whole life, even more so your teen years. That's the thrust of the story of writer/director Michael Johnson's debut film, All the Wilderness.
It's a coming of age story about a kid named, James (Kodi Smit-McPhee), who is already old beyond his years. He listens to Chopin, recites poetry and is already halfway through reading Moby Dick. He roams the woods alone in his neighborhood, sketches dead animals and bugs and prefers to be left alone.
His mom (Virginia Madsen) is almost to her wits end with him and his psychiatrist (Danny DeVito), in between carving and sanding chess pieces, can't seem to get anywhere either.
One night, James sneaks out of his house and randomly meets up with Harmon (Evan Ross) and Crystal (Hannah Barefoot), who let him tag along on their night out. It turns out that they're a good anecdote for him.
Remember when you were young and met new people away from school? You could become whoever or whatever you wanted because these new people have no idea of your past. It's liberating actually. And that's what's happens with James. He sees a side of the city he's never witnessed and it helps that Harmon is on top of everything, guiding him.
Harmon is bold and lives life and James begins to feed off that, albeit very slowly. Harmon forces him to talk to another of DeVito's patients, Val (Isabelle Furhman), who he's got a crush on and the two begin to hang out more and more.
The movie really feels like it's about the randomness of teenage life. Experiencing new things, new people and reacting to that but on the back of James losing his father.
With this randomness though, it leads to the movie being a bit like that. The story is flimsy to say the least. James doesn't really progress as a character beyond rebelling a bit. Madsen's mother character has a small story that shows her with a (maybe?) new boyfriend but we never get any kind of closure on that. Nor do we find out what happens with Harmon and his new other friends. Everything is left dangling.
Smit-McPhee can portray loneliness and longing better than any your actor working these days. And by the way, he's going to make an incredible Nightcrawler in the new X-Men movie.
Johnson is definitely talented. He's got that lonesomeness of teen life down and the scenes with DeVito were the best of the film; understated and wonderfully acted. Some parts feel like a Terrence Malick film; long sequences of characters roaming about seeming discovering the world around them while music blares. Like Malick though, I got tired of it after the first segment. That being said, I'm definitely going to keep a lookout for what he's directing next.