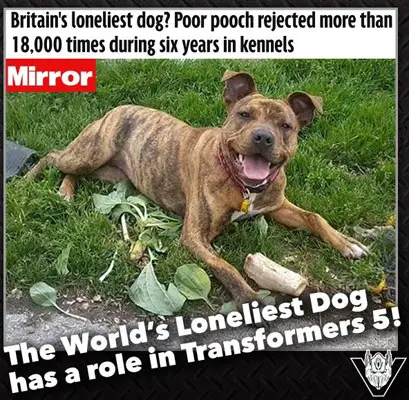 It's not just us humans whose lives can change in the blink of an eye. Sometimes, our pets luck out too. Freya, a Staffordshire Bull Terrier, was only a few months old when she was handed over to a British animal shelter. Freshfields Animal Rescue were confident they could find a new home for her but for whatever reason, that wasn't to be. Freya was six and still hadn't found her forever home, until she caught the eye of none other than Michael Bay, director of Transformers.
Several UK news outlets had picked up on Freya's plight, plus the fact that she's now been diagnosed with epilepsy, and published stories to try and raise awareness about her. It worked!
Bay's management team contacted Freshfields direct, and said that the director wanted to put Freya in his new Transformers movie and help find her a home. "Found this in the news last week in the UK. We gave the Loneliest Dog, a role in Transformers," Bay said on Twitter. "Freya has epilepsy and has been in a shelter her whole 6 year life. We are also going to find her a home. If not she will come to my house. Welcome to the cast Freya!"
"It was a bit of a surprise to say the least as we were just focusing on finding her a home," a shelter spokesperson told The Dodo. "Michael Bay's office contacted us directly and after lengthy communications we're happy for her to be part of the cast. This came as an added bonus alongside the fact that we have people currently getting to know her with a view to offering a permanent home which has always been our main priority."
Freya will join Optimus Prime, Megatron, Mark Wahlberg, Josh Duhamel and Anthony Hopkins in Transformers: The Last Knight. There is no news yet on exactly what Freya's role will be in the movie, but it's heartwarming to know that a brighter future lies ahead of her.