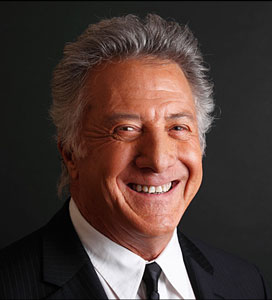 Actors save people's lives in the movies all the time, but in real life?  I'd rather put my trust in a doctor, firefighter, or police officer.  But perhaps I ought to rethink my stance.
Lawyer Sam Dempster was jogging in London's Hyde Park when he had a heart attack and collapsed.  Academy Award winning actor Dustin Hoffman just happened to walk by and noticed Sam frothing at the mouth and falling on his face.  Hoffman stayed by Dempster's side and called for help on his cellphone, and then waited with Dempster as paramedics delivered CPR to him. 
One of the paramedics mentioned that Hoffman was astounded by how quickly they were able to get Dempster's heart working again.  He says, "Dustin was fascinated. He seemed impressed we'd got this guy back so quickly.  When we were carrying the patient into the ambulance he walked up and said 'Great job, guys.' He really appreciated what had happened." 
The paramedics accidentally took Hoffman's iPod and sunglasses, thinking they belonged to Dempster — but they were promptly returned to Hoffman.
As for Dempster, while he recovered in the hospital from emergency heart surgery he said, "I want to say 'Thank you' to Dustin Hoffman. He saved my life."  He also thanked the paramedics and the staff of the hospital, of course, but how many people can say that their lives were saved in part by Enrico "Ratso" Rizzo or Rain Man?
via The Sun