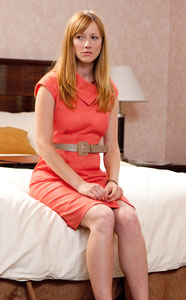 Judy Greer consistently captivates both critics and audiences with her engaging performances. She is one of the most prolific actresses of her time, appearing in 80 roles to date across film and television.
Greer can most recently be seen in Alexander Payne's "The Descendants" opposite George Clooney.  The Academy Award®-nominated film centers around attorney Matt King (Clooney), who learns, after his wife suffers a boating accident and winds up in a coma, that she'd been having an affair with local real estate broker Brian Speer (Matthew Lillard). When Matt and his daughters travel to the neighboring island of Kauai to confront Speer, they also meet the broker's affable wife, a role "indelibly etched" by Greer, according to Todd McCarthy of The Hollywood Reporter.  Greer has received critical acclaim for her supporting role in the film, garnering solo nominations from both the Satellite Awards and the Denver Film Critics Society, in addition to being nominated as part of the ensemble cast for a Gotham Award, a Screen Actors Guild Award and a Broadcast Film Critics Association Critics Choice Award.
Following "Jeff, Who Lives at Home," Greer will be seen in screenwriter Robbie Fox's "Playing the Field," for director Gabriele Muccino, opposite Gerard Butler, Jessica Biel, Uma Thurman, Dennis Quaid and Catherine Zeta Jones.  In the comedy, which follows former professional athlete George (Butler) after he agrees to coach his son's soccer team, only to find himself fending off the romantic advances of his players' mothers, Greer stars as recent divorcee Barb, one of George's' many pursuers.  FilmDistrict will release the film December 25, 2012.
Greer recently received a pilot order from ABC for her new single-camera comedy, "American Judy," in which she will star and produce with ABC Studios. Inspired by Greer's life, and written by Deborah Kaplan & Harry Elfont, the series centers on a cosmopolitan woman (Greer), who gets married and becomes a fish out of water in the suburbs, juggling step-kids, her mother-in-law and the ex-wife of her husband – who also happens to be the town sheriff.  Principato-Young's David Gardner, Peter Principato and Paul Young will executive-produce alongside Kaplan and Elfont.
No stranger to the small screen, Greer appeared in a multi-episode arc on the new season of "Two and a Half Men" as Bridget Schmidt, ex-wife of Ashton Kutcher's character Walden Schmidt.  Greer returned to the show this season after a 2007 guest appearance as a completely different character.  She once again voices Cheryl on the third season of FX's animated hit series "Archer," which became an instant cult classic after its television debut in 2010.  The remaining episodes of Season 3 of the series, which was split into two parts, will begin airing January 2012.
Greer's numerous past film credits include Barry Blaustein's "Peep World," opposite Michael C. Hall, Sarah Silverman, Kate Mara and Rainn Wilson which debuted at the 2010 Toronto International Film Festival; Malcolm Venville's comedy "Henry's Crime," opposite Keanu Reeves, Vera Farmiga and James Caan; Magnolia Pictures' "Barry Munday," opposite Patrick Wilson and Chloe Sevigny; Ed Zwick's "Love & Other Drugs," opposite Anne Hathaway and Jake Gyllenhaal; "Love Happens," opposite Jennifer Aniston and Aaron Eckhart; "Visioneers," opposite Zach Galifianakis; "The Go-Getter," opposite Zooey Deschanel and Jena Malone; "27 Dresses," opposite Katherine Heigl and James Marsden; "The TV Set," opposite Sigourney Weaver and David Duchovny; "American Dreamz," opposite Hugh Grant and Mandy Moore; "The Amateurs," opposite Jeff Bridges; Cameron Crowe's "Elizabethtown;" M. Night Shyamalan's "The Village;" "13 Going on 30," opposite Jennifer Garner; writer/director Adam Goldberg's psychological drama "I Love Your Work" (which debuted at the 2003 Toronto Film Festival); "The Hebrew Hammer"; Charlie Kaufman's critically-acclaimed "Adaptation"; "The Wedding Planner," opposite Jennifer Lopez; "What Women Want," opposite Mel Gibson and Helen Hunt; Danny Leiner's "The Great New Wonderful"; "What Planet Are You From?"; "Three Kings"; "Jawbreaker": "In Memory of My Father"; "The Specials"; and "Kissing Fools."
Additional television credits include the ABC comedy "Miss Guided," where she garnered rave reviews for her role as a woman who returns to her high school alma mater as a guidance counselor, and guest appearances on "Modern Family," "How I Met Your Mother," "The Big Bang Theory," "House," "Two and a Half Men," "E.R.," "My Name is Earl," "It's Always Sunny in Philadelphia," "Californication" and "Love Monkey."  Greer is also known for her hilariously memorable portrayal of Kitty Sanchez' on Mitch Hurwitz's critically-acclaimed comedy "Arrested Development." On stage, Judy starred in Paul Weitz's play "Show People" for Second Stage, opposite Ty Burrell.
Greer was born and raised in Detroit.  She trained for nearly 10 years in classical Russian ballet before shifting her interest to acting and gaining acceptance into The Theatre School, DePaul University's prestigious theatre conservatory program.  Greer currently resides in Los Angeles.
Biography/Filmography courtesy of Paramount Pictures and the film, Jeff Who Lives at Home