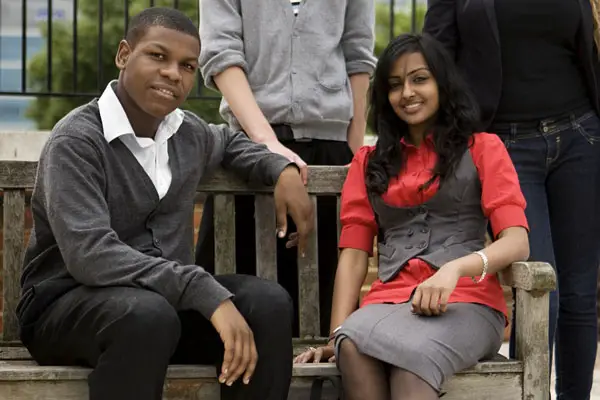 John Boyega was far from a recognizable name when he landed a lead role in Star Wars: The Force Awakens. Some film fans knew him from 2011's Attack the Block, while Jack Bauer fans might have recognized him from 24: Live Another Day. As it turns out, Boyega had an entirely different "role" as a young actor attending drama school at least five years ago — a stock model for photographs that were used for an ad campaign for University of Nebraska – Lincoln, an institution that Boyega has no affiliation with whatsoever.
The young Boyega appears extra studious in the images, and if it wasn't for his Star Wars fame nobody would suspect that Boyega wasn't a Cornhusker. He's since commented on the photos, revealing that it was indeed him and that he used the money from the photoshoot to buy Air Force One sneakers.
While stock photos are a way for actors to make some relatively easy sneaker money, actors should be aware that their photos can be used in ways they never intended, as one actor found out when one of his old stock photos was used in a diabetes awareness ad by cutting off one of his legs.