Though Huong "Junie" Hoang lost her lawsuit against IMDb back in April, Hoang has since filed an appeal.  Joining her in solidarity are SAG-AFTRA and Writers Guild of America, West, which filed an amicus brief to support her appeal.
Hoang's case began as a lawsuit over IMDb posting her actual birth date on its website despite Hoang claiming professionally that she was seven years younger.  Hoang argued that IMDb's revelation of her true age hurt her career because of rampant ageism in the entertainment industry.  However, Hoang's earlier accusations of age discrimination were tossed out because the judge did not believe IMDb (and its parents company, Amazon) could be held responsible for any age discrimination in the film industry as a whole.  The trial ended up focusing on whether or not IMDb improperly used Hoang's credit card information to find her actual birth date, which would be a violation of the comapny's own user agreement.  The lawyers for IMDb simply argued that the website was doing its job of providing accurate information despite Hoang's multiple attempts of trying to change or remove her birth date from the site (including using a fake passport and ID card), and that the information came from a third-party website.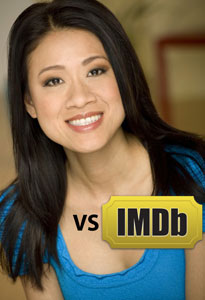 In the official joint statement, SAG-AFTRA and WGA West argues that IMDb's "public exposure of personal information can be used for improper purposes and ultimately places members at risk for identity theft and the perpetration of scams" and that "There is also strong evidence that IMDb's publication of birthdates in this manner actively encourages and facilitates age discrimination in the casting and hiring process."  Finally, the statement points out that entertainers "have little choice but to engage with IMDb to manage their reputation as embodied within IMDb's database."
It's curious that the SAG-AFTRA and WGA West statement echos some of the points the judge threw out in the original trial.  Hoang was unable to prove that IMDb's posting of her birth date hurt her professionally (IMDb's lawyers used her tax returns to show that she did not have significant loss of income after the date was posted), so the "strong evidence" that the statement cites is likely from another source.  It would be interesting to see this information, but again begs the question or whether IMDb is being used as a scapegoat for Hollywood's long-time issues with aging actors and actresses.