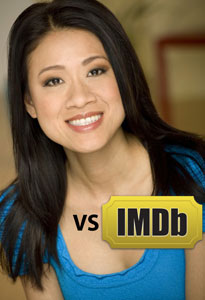 In the lengthy battle between Huong "Junie" Hoang and IMDb over the actress' claims that IMDb's illegal revelation of her true age hurt her career, the jury decided the verdict in favor of IMDb after a trial that lasted just two days.
In comments to The New York Post, Hoang said, "We're devastated.  But I believed the issues were worth fighting for."  She has insisted that she has lost work because of the revelation of her true age (41 — but prior to the trial Hoang attempted to claim that she was seven years younger on her IMDb profile).  She added, "I definitely learned that age is a determining factor."
One thing to keep in mind that because an earlier ruling tossed out Hoang's claims of age discrimination (the judge's reasoning being that IMDb cannot be held responsible for any discrimination done by casting directors or others in Hollywood), so the trial only focused on whether or not IMDb misused her credit card information in violation of its own user agreement in order to post her birth date.  However, Hoang's lawyers were not able to prove that IMDb got her birth date from her credit information, nor could they dispute IMDb's claims that it got her birthday from a third-party site, PrivateEye.com.
Hoang's case had trouble from the start after the judge whittled down her case — and it didn't help that her attorney died last August, forcing her to find a replacement.  During the short trial her new attorney, Derek Newman, tried to show how revealing an actress' true age hurt her career. However, IMDb's lawyer, Harry Schneider, presented the website's case in a different light: that it was only doing its job by presenting accurate information, and used Hoang's attempts to falsify her age (she used a fake passport and bogus ID card) to cast her in a negative light.  IMDb also pointed out that her tax records did not show a lost of income after her true birth date was posted on the site.  In that sense, IMDb's lawyers questioned why the website should be punished for posting true information and refusing to post a known falsehood.
Regardless of the trial's outcome, actors will need to contend with the possibility of their personal information being on the internet moving forward, especially if they are not careful with who they provide that information to.  As I pointed out above, the judge and jury didn't deny that age discrimination exists in Hollywood — that is more-or-less indisputable — but simply did not think IMDb should be punished for posting accurate information.  An argument can be made that IMDb shouldn't be posting such information at all — that's probably a fight IMDb will continue having — but if the information is available elsewhere on the internet that is a moot point.  As Hoang found out, once that information is out there it is difficult to make it disappear.