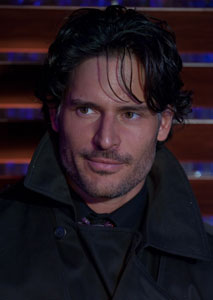 Joe Manganiello plays fan-favorite character Alcide Herveaux, the loyal, no-nonsense werewolf on HBO's critically acclaimed True Blood.  Manganiello – who was named one of People Magazine's Sexiest Men Alive – will return for the already much buzzed about fifth season of the monster hit show.
His most recent feature film appearance is in the ensemble comedy What to Expect When You're Expecting.  Manganiello also portrayed Peter Parker's nemesis Flash Thompson in the popular Spider-Man trilogy, directed by Sam Raimi.  His other feature film credits include the starring role of Lt. Sean Macklin in Behind Enemy Lines and the independent film Irene in Time, directed by Henry Jaglom.
A star athlete since childhood, the Pittsburgh native surprised his family and friends when he decided to steer off the paved road to professional athletics and instead become an actor. After high school, he enrolled in the prestigious Carnegie Mellon University School of Drama where he ultimately earned his BFA in acting.
Recently, Manganiello appeared in a guest starring role on CBS' popular comedy series Two and a Half Men.  The episode marked his return to television comedy.  He was also seen in a guest starring role on USA Network's beloved action-drama series White Collar, opposite friend, fellow Carnegie Mellon alum and Magic Mike co-star Matt Bomer.
Prior to joining the cast of True Blood, Manganiello was seen in a variety of television and film roles.  He showed off his comedic chops and impeccable timing on several seasons of the Emmy Award-nominated CBS show How I Met Your Mother, and appeared in a recurring role on The CW drama One Tree Hill for three seasons.