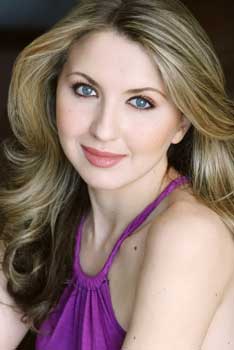 To hear the New York Post's Barbara Hoffman tell it, Born Yesterday star Nina Arianda doesn't just steal the show, she makes off with the theater and the audience, too. The 26-year-old star of the Broadway revival of the classic play, which opened last week, earned rave reviews from the theater critic.
"They come to Broadway's Born Yesterday for its TV royalty," writes Hoffman in her review of the production, which also stars According to Jim's Jim Belushi and House's Robert Sean Leonard. "They leave buzzing about a ditzy blonde named Billie Dawn."
Born Yesterday, about a crooked businessman and his trophy mistress and their exploits in Washington, D.C., gets a lot of mileage out of Billie's vacuousness. Still, the up-and-coming actress who plays her defends the character's intelligence. "I hate when people call Billie stupid. She's honest and pure and has no malice. Emotionally, she a genius," Arianda, who appeared alongside Paul Giamatti in this year's Win Win and has a role in this fall's Tower Heist, is quoted as saying.
"(Billie's) a role that can win a girl a Tony…" Hoffman added. "It'll be Arianda's to lose."
The Post's piece on Arianda is available here.