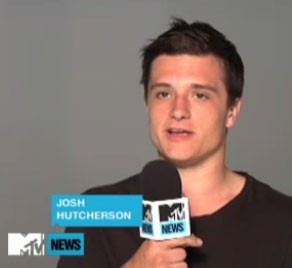 The Hunger Games by Suzanne Collins has become a sensation with readers and very quickly was poised for adaptation into film. The only problem of course with both fans and filmmakers is that the actors have to be right for the part. Casting is already a difficult process but it must be even harden when you're dealing with finding the person that can live up to fan expectations.
Just watching Winter's Bone (2010) showed just how powerful Jennifer Lawrence is as an actress. She's definitely the right choice to play Katniss Everdeen; however, casting the two young actors that will form a love triangle with Katniss must have been an even greater challenge.
Josh Hutcherson will play the part of Peeta Mellark, the boy chosen along with Katniss to compete in a tournament – to the death (hence the film's title). 
In an interview with MTV News, Hutcherson reveals that he was almost tormented by how "right" he felt for the part. "It kind of drove me crazy in a way, because I felt like I was so right for it, then I had to go through this crazy audition process," he said. "So to finally be making the movie and now we're finished, it's like, somebody please pinch me, because I still don't believe this is actually happening. For me, it's just an honor to be a part of such a great story. Gary Ross is such an amazing director, and Jennifer Lawrence is perfect, and everyone else we cast was really great." He says that when reading The Hunger Games he was amazed by how true Peeta's character was to him: "I had never read a character that was more like who I am as a person and had kind of my core values and what I believe in."
Despite having appeared in a number of films already, Hutcherson was rather anxious waiting to find out if he had been cast for the part: "For the audition process, I came in the first time and read a few scenes for Gary Ross and Suzanne Collins and some of the other producers involved. Then maybe about a week or so, maybe two weeks later, I came in and did a screen test with Jennifer, where I actually read the scenes with her so they could see how the chemistry worked. Both of them felt really great, but as an actor, you just pick apart every single thing that you do, so for me, I was on pins and needles waiting to find out. And then when I finally found out, my jaw hit the floor. I was so excited."
If Hutcherson was the right choice for both the director and the author, fans of the book should be extremely excited and do their best to control their anticipation as they await the release of the film in 2012.