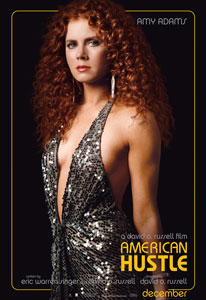 One of the eagerly anticipated films of 2013 is American Hustle. It brings back a group of actors who have had a strong collaboration with director David O. Russell. Christian Bale, Jennifer Lawrence, Bradley Cooper and Amy Adams have all a part of Russell's work over the last five years.
In his latest film, Adams plays Sydney Prosser, an inexperienced grifter who has an affair with a veteran con man played by Bale.
The 39-year-old actress told The New York Times some pretty interesting things about her character.
She said, "[Sydney] is the most miserable human being I've ever played. She is not — happy. I'm used to playing people that, even if they're survivors, there's some sort of light in them. I don't know that she has that, necessarily."
Adam's preference?
She laughed, "I think I like playing happy people."
Even though this isn't her first time working with Bale, she likens working with him to a "master class." Not only is it the creative work, but it's also the physical work he does for each role. While he lost a ton of weight for The Fighter, he sported a beer belly for this film.
Adams revealed, "He ate these bacon sandwiches in the morning, and I was eating egg whites and trying to get into all those clothes I had to wear. I was just looking at him and going, 'Oh my gosh.'"
Perhaps Adams was miserable as Sydney because she was so hungry.
American Hustle will be released on Dec. 13.