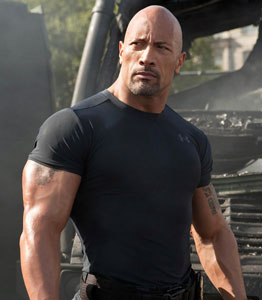 There's a reason why you don't see Dwayne "The Rock" Johnson in a wrestling ring much anymore: he's traded in his wrestling championships to become the 2013 box office champion as the highest grossing actor of 2013 according to Forbes.
Johnson had two major hits in the past year (Fast & Furious 6 and G.I. Joe: Retaliation) and two smaller hits (Pain and Gain and Snitch), with a cumulative box office of $1.3 billion.  That quantity puts Johnson over the top of Robert Downey Jr., who starred in the highest grossing film of the year (Iron Man 3) but only made that single film (still, he comes in right below Johnson at $1.2 million).  Johnson's Fast & Furious co-stars Vin Diesel and the late Paul Walker also made the list (#4 and #6, respectively), mostly because of the success of that franchise's latest entry. Forbes' data looked at worldwide box office earnings for films released between June 2012 and June 2013.
Curiously, Steve Carell comes in at #3 on this list at $964 million even though he placed #7 on Forbes' "Most Overpaid" list of 2013.  That is because unlike the overpaid list, animated films are counted in this list.  That's good for Carell, because almost his entire gross comes from Despicable Me 2 because his other two films were the low-grossing The Way Way Back and The Incredible Burt Wonderstone.  Counting animated films helped Billy Crystal and John Goodman land on the list, too, who tie for #7 because they both starred in Monsters University. Curiously, a number of these films fall outside of the June 2012 to June 2013 timeline, so I'm not sure what timeline Forbes is working with.
Anyway, at number five is the highest-ranking actress on this list, Sandra Bullock.  Her film Gravity continues to rake in the dough (and also falls outside of that June-to-June timeline) and could surpass The Blind Side as the highest grossing film in her career.  Bullock also starred in the hit comedy The Heat, which solidified her place on the list.
Here is the rest of the list:
4) Vin Diesel ($887 million)
5) Sandra Bullock ($862 million)
6) Paul Walker ($789 million)
7) Billy Crystal ($743 million)
   John Goodman ($743 million)
9) Chris Hemsworth ($701 million)
10) Jennifer Lawrence ($700 million)