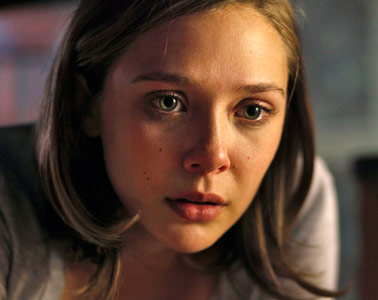 Elizabeth Olsen is not only a vivacious and engaging young actress, but she is also a full time student at New York University's prestigious Tisch School of the Arts.
Recently, Olsen started in Martha Marcy May Marlene from Fox Searchlight, for which she received a Best Actress nomination from the Film Independent Spirit Awards. The film is a drama that follows a young woman who is living with her older sister after escaping a cult. Olsen stars opposite Hugh Dancy, John Hawkes, Sarah Paulson, and Brady Corbet. Martha Marcy May Marlene was also selected in the Un Certain Regard as part of the 2011 Cannes Film Festival and Olsen has received a Gotham Award, Critics Choice, and FIND Spirit Award nomination for Lead Actress for her performance. She has been named best actress for her performance from the following critic associations:  Indiana (Winner), Ghent (Winner), Florida (Winner – Breakout), Chicago (Winner – Olsen/Most Promising), Phoenix (Winner), Central Ohio (Winner), Vancouver (Winner). She was also nominated for the following: Detroit (Nominee – Olsen/Breakthrough), St. Louis (Nominee), Chicago (Nominee), Las Vegas (Nominee), Houston (Nominee), Online Film Critics (Nominee), IPA (Nominee), San Diego (Nominee) and Denver (Nominee). 
Olsen will next be seen starring in the independent film SILENT HOUSE from Open Road Films. The film is the re-imagining of the successful Uruguayan psychological horror-thriller, LA CASA MUDA. The movie is about a true story that happened in the late 40's in a small village in Uruguay. The film will be released on March 9th, 2012.
Olsen also had two films premiere at the 2012 Sundance Film Festival. The first film was RED LIGHTS in which she stars opposite Robert De Niro, Cillian Murphy and Sigourney Weaver. The film centers on a psychologist, and her assistant, whose study of paranormal activity leads them to investigate a world-renowned psychic. The second was LIBERAL ARTS where she stars as 'Zibby' opposite Josh Radnor, John Magaro, Zac Efron and Richard Jenkins. The film follows a thirty-something guy (Radnor) and a coed (Olsen) who spark a connection due to their mutual love of books and music, though their age difference complicates their fledgling relationship.
This spring, Olsen will start filming THERESE RAQUIN opposite Glenn Close. The film is a dark period piece set in Paris in 1867, which follows young Therese (Olsen), who is forced by her aunt, Madame Raquin (Close), into a loveless marriage to her sick, spoiled first cousin. The film will be directed by Charlie Stratton, who also wrote the screenplay adaptation. She will also start filming VERY GOOD GIRLS opposite Dakota Fanning.
Olsen is also very familiar to the stage as she understudied both on the Off-Broadway play Dust and the Broadway play Impressionism while attending college. Other workshops include Bottom of the World by Lucy Thurber (Atlantic Theatre Company), and The Living Newspaper (DRD Theatricals).  Training: Atlantic Acting School and Moscow Art Theatre School.
Olsen currently resides in New York.
Elizabeth Olsen's Filmography/Biography courtesy of LD Entertainment, Open Road Films and Elle Driver. Silent House opens March 9th.