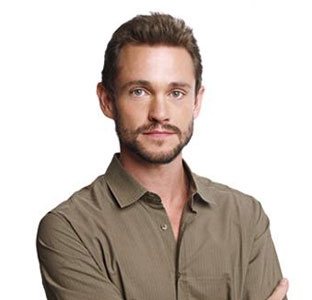 Hugh Dancy may not be an actor whose name is familiar to most, but he has appeared in movies (this year's Hysteria, Martha Marcy May Marlene, and Our Idiot Brother), television (The Big C), and New York theatre (Journey's End and Venus in Fur). 
One would imagine with all that experience that Dancy had wanted to get into acting from a very young age, but in an interview with Yahoo News Dancy concedes that he got his first role quite by accident, and he only got into acting because he was a troublemaker.
The teenage Dancy was forced into a local youth theatre program as "punishment" for his youthful rowdiness.  But he discovered he really enjoyed it, revealing, "A few months later, quite literally, I was walking down the street and this older kid at the school said, `Oh, you're going to be Ariel in my production of The Tempest next year.  I was cast on the street. It's never been so easy since." 
Dancy returned to the New York stage in award-winning playwright David Ives' Venus in Fur, but with one major hurdle: the entire production is returning from the play's 2010 debut at the Off-Broadway Manhattan Club Theatre — except Dancy is replacing Wes Bentley as the male lead in the two character play.  Dancy admits that does bring a bit of concern to him, confessing, "I did think to myself, `I hope they treat me gently.'  In a sense, I think coming to it fresh ultimately benefited me and I hope actually benefited everybody."
Despite the difficulties of stepping into a role that was originated by someone else, Dancy does enjoy working as an actor in all outlets.  He explains, "For me, it does help to jump between TV, film, stage and whatever.  I think you excise slightly different certain muscles, although at the end of the day, at the very, very heart of it, it's the same deal. You're telling a story and you're finding truth in it and you're trying to keep it interesting."
Venus in Fur is on Broadway at The Friedman Theatre through December 18.