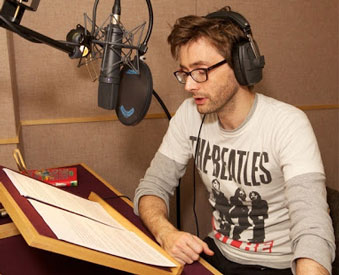 It's almost a throwback to the days of the radio drama: actors who primarily act with their voice in audiobooks.  And now that audiobook sales are booming, an actor can actually now make a steady income by reading aloud.
The New York Times recently profiled New York City actress Gabra Zackman, who derives a great deal of her acting income from utilizing her classical training at the Shakespeare Theater of Washington to record audiobooks.  According to the article, "Ms. Zackman has recorded more than 200 titles, and she says she can now count on steady work of two books a month, earning $1,000 to $3,000 a book."  That's certainly not bad money for actors who work long hours for a fraction of that. 
Audiobooks might have been around for decades, but in the days of physical media the sheer amount of space they took up and cost hurt their popularity (some lengthy books took up dozens of CDs!)  However, audiobooks have had a massive surge in popularity because digital media has eliminated that storage problem and eliminated the costs of creating a physical product.  While that's certainly great news for publishers and authors, it's also great news for actors with clear enunciation.  Many actors even record the books from the comfort of their own homes.  Acting schools are noticing the trend and some, like Yale and Julliard, and even offering courses in audio narration. 
Of course, there are drawbacks.  $3000 per book may not seem like much once one factors in how many hours it takes to make a mistake-free recording.  In fact, audiobook star Jonathan Davis, who has narrated Star Wars novels and the Pulitzer Prize winning bestseller The Brief Wondrous Life of Oscar Wao, points out, "You need endurance, patience, and you need to do a lot of research.  I am in the booth from 9 to 4 and the average book could be three days to seven days."  However, it remains a steady stream of income for actors who are then free to pursue "visible" work on stage and screen that might not pay as much.  In fact, Donald R. Katz, the founder and chief executive of the biggest audiobook company Audible, points out that Audible might be "the largest single employer of actors in the New York area." 
Nevertheless, there is another issue that also threatens that steady income.  Similar to how big-named actors are increasingly being recruited for voice-over work on commercials, as audiobooks gain in popularity big-name actors are being hired to make them.  For example, Nicole Kidman obviously was paid more than a few thousand dollars for her recent audiobook recording of Virginia Woolf's To the Lighthouse.
But that doesn't mean that audiobook regulars can't be stars in their own right.  Davis confesses that he even has fans of his work, adding, "A fan once said to me that my narration was like 'a modern version of sitting around a campfire listening to tribal elders.'  That is what makes me feel I am on the right track."
So, actors — if anyone has ever told you that you have a nice voice, you might want to think about stepping off the stage and stepping behind a microphone!