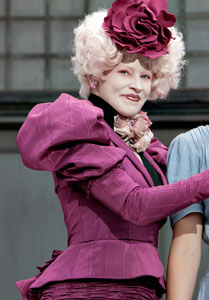 Elizabeth Banks has become one of Hollywood's most sought after and versatile actresses, moving effortlessly between comedy and drama, film and television, and now also taking on a role as a producer.  
She was most recently seen starring in "Our Idiot Brother" with Paul Rudd, Emily Mortimer and Zooey Deschanel; and opposite Russell Crowe in "The Next Three Days," directed by Paul Haggis. She recently wrapped production on Universal Pictures' "Pitch Perfect," which she is producing with her husband, Max Handelman, through their company, Brownstone Productions. The cast includes Anna Kendrick, Brittany Snow and Rebel Wilson.
Banks can currently be seen in Summit Entertainment's "Man on a Ledge" with Sam Worthington. The project focuses on a fugitive ex-cop (Worthington) perched on the ledge of a high-rise building while a hard-living NYPD hostage negotiator (Banks) tries to talk him down. The film was released January 27th, 2012.
She will then appear in Lionsgate's motherhood comedy "What to Expect When You're Expecting." Banks portrays an author of a children's book about breast feeding and owner of The Breast Choice boutique, who is militant in her beliefs about what makes a good mother until she gets pregnant for the first time. The film, directed by Kirk Jones, is based on Heidi Murkoff's bestseller, and the ensemble cast includes Cameron Diaz, Jennifer Lopez and Dennis Quaid. The film is scheduled to be released May 18th, 2012.
Banks has also wrapped production on DreamWorks Pictures' "Welcome to People," in which she stars opposite Chris Pine, Olivia Wilde and Michelle Pfeiffer. The film follows a businessman (Pine) who returns home after his estranged father's death and discovers that he has an alcoholic sister (Banks) with a 12-year-old son. The film is scheduled to be released in 2012.
In August 2011, she was seen in "Our Idiot Brother" opposite Paul Rudd.  "Our Idiot Brother" and "The Details" premiered at the Sundance Film Festival in January 2011 and were purchased for distribution by The Weinstein Company. In "The Details," she stars as 'Nealy Lang,' whose husband's (Tobey Maguire) efforts to rid his backyard of lawn-destroying raccoons somehow leads him down a path with disastrous results.
In 2008, Banks received critical acclaim for her role as First Lady Laura Bush opposite Josh Brolin in Oliver Stone's "W."  The impressive cast included James Cromwell, Richard Dreyfuss, Ellen Burstyn and Jeffrey Wright.  In Kevin Smith's "Zack and Miri Make a Porno," Banks (Miri) and Zack (Seth) played two broke friends who decide to cure their financial ills by making an X-rated movie.
Banks' additional feature credits include her breakthrough roles in the award Academy Award®-winning films "Seabiscuit," in which she starred as 'Marcela Howard' opposite Jeff Bridges and Tobey Maguire, and in Steve Spielberg's "Catch Me If You Can."  She has also appeared in "Role Models," "Meet Dave," "Invincible," "The 40-Year-Old Virgin," "Fred Claus," "Sisters," "Slither," "Heights," "The Baxter," "The Trade," "Ordinary Sinner," "The Uninvited," "Daltry Calhoun," "Sexual Life," John Singleton's "Shaft" with Samuel L. Jackson and cult hit "Wet Hot American Summer" starring Janeane Garofalo and David Hyde Pierce. She also appeared as journalist 'Betty Brant,' a role that director Sam Raimi created for her, in Columbia Pictures' three blockbuster "Spider-Man" films with Tobey Maguire as the title character.
On the small screen, Banks has recently been seen in a recurring role as 'Avery Jessup,' Alec Baldwin's love interest, on the NBC series "30 Rock." She earned an Emmy® Award nomination in 2011 for Outstanding Guest Actress in a Comedy Series for her performance.  She has also appeared on ABC's "Modern Family" and in a recurring role as 'Dr. Kim Porter' on NBC's "Scrubs."  In 2007 she appeared in the CBS miniseries "Comanche Moon," which is Larry McMurtry's popular prequel to "Lonesome Dove." 
Banks also produced Disney's 2009 sci-fi thriller "The Surrogates," starring Bruce Willis, through her company Brownstone Productions.  Upcoming projects for Brownstone, which Banks runs with her husband Max Handelman, include "Tink," a Disney live-action romantic comedy in which Banks will star as the title character of 'Tinkerbell;' "Forever 21," a Dreamworks comedy which Banks will star in and produce; "Too Far From Home," a Universal film about three astronauts who were stranded on the international space station; and the college a cappella group comedy "Pitch Perfect."
Her extensive theater credits include many roles in American Conservatory Theatre productions, as well as the Guthrie Theater's production of "Summer & Smoke" directed by David Esbjornson.  In 2006 Banks played Cherie, the female lead in William Inge's comedy "Bus Stop," as part of the Williamstown Theater Festival.
Originally from Massachusetts, Banks received her Bachelor's Degree from the University of Pennsylvania and her Graduate Degree at the American Conservatory Theater.  She currently resides in Los Angeles.
Biography/Filmography courtesy of Lionsgate and The Hunger Games