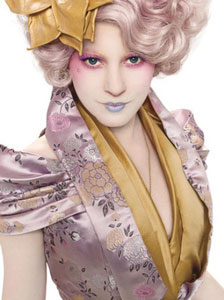 As she told New York Magazine during a recent interview, The Hunger Games actress Elizabeth Banks was so thrilled to be a part of the big-screen adaptation of the popular novel of the same name that feeling pressure to live up to the book, one of her personal favorites, never even entered her head.
"I was really excited to run around with a gun and chase bad guys," said the 37-year-old actress, who plays a pink-haired girl named Effie Trinket in the science fiction drama, which arrives in the theaters March 23. "If I could remove myself from the situation, I would be really excited by my portrayal of Effie."
Those who know Banks as Jack Donaghy's kidnapped wide on NBC comedy 30 Rock might be thrown for a loop when they see her in Hunger Games, but that's pretty much par for the course. Over the course of her 14-year career, Banks has appeared in everything from comedies like The 40-Year-Old Virgin and Zach and Miri Make a Porno to more serious fare such as Man on a Ledge and W. 
"In the last couple of years, it really just depends on does the director watch comedies or does he watch dramas," she explained about which scripts come her way. "I get a decent amount of respect for being able to do everything."